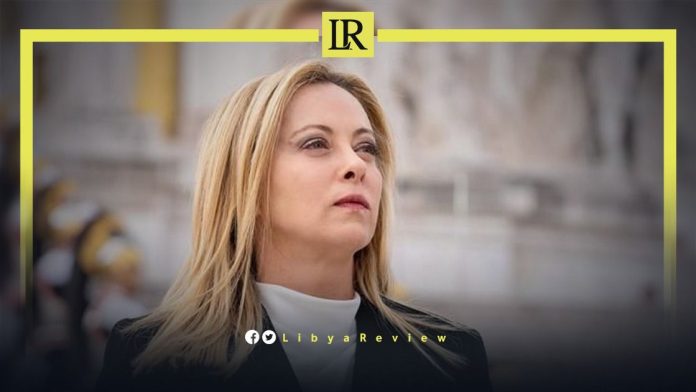 On Tuesday, the Italian Council of Ministers approved a new proposal by Prime Minister, Giorgia Meloni and Foreign Minister, Antonio Tajani. This is with regard to the continuation of international military missions, and the ongoing development cooperation initiatives.

The cabinet also decided to launch four new military missions in 2023, "in support of peace and stabilization processes with an eye on Libya," according to the Italian Analisidifesa newspaper.

The resolution was approved following notification to the Italian President, pursuant to law no. 145.

According to the newspaper, the approval comes as part of Italy's "ongoing efforts and development cooperation initiatives outside of national boundaries."

The new missions will include the deployment of military personnel off Libya. This will be to support the European Union Border Assistance Mission in Libya (EUBAM) in enhancing security, and control of Libya's land, sea, and air borders against illicit trafficking.

The geo-strategic framework remains marred by persistent and enduring factors of instability, and is aggravated by the Russian-Ukrainian conflict. Italy continues to operate in the enlarged Mediterranean area, its natural projection area, and aims to maintain a naval presence in the Indo-Pacific.

On the one hand, the new ventures confirm Italy's willingness to mark its presence in Libya, most crucially, as well as in Niger and Burkina Faso.

In January, Libya's National Oil Corporation (NOC) signed an $8 billion deal with Italy's state-run energy company, ENI to develop two Libyan offshore gas fields. This comes as European nations seek to cut their dependence on Russian energy.

ENI will help develop two offshore fields, with production expected set to start in 2026, the company said on 28 January.

The Italian giant estimated the fields could produce about 7.5 billion cubic meters of gas a year, or more than two-thirds of the amount Italy imported from Russia last year.

European nations have been rushing to purchase natural gas from non-Russian sources, including North Africa, following Moscow's invasion of Ukraine in February 2022.