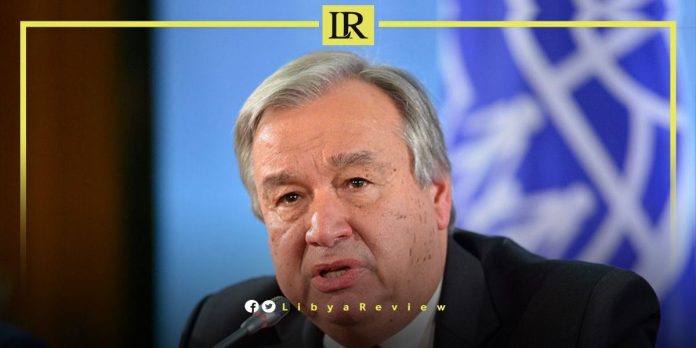 The Secretary-General of the United Nations, Antonio Guterres issued a new report on the results of the arms embargo on Libya.

The report revealed that the inspection of ships on the high seas off the coast of the country was subject to several cases of refusal to inspect. In two operations, shipments considered to be transporting prohibited items were confiscated.

This is the second report issued on 2 May, among two reports requested by the Security Council regarding the implementation of Resolution 2635.

Guterres' report also mentioned the efforts of the UN Envoy, Abdoulaye Bathily to resolve what he described as the protracted "political deadlock." As well as to define a consensual path towards holding inclusive and credible elections based on a solid constitutional framework.

The report confirmed that during the reporting period, foreign mercenaries, and foreign forces remained present in Libya. It added that the 5+5 Joint Military Committee (JMC), with the support of the UN mission, took positive steps to facilitate their withdrawal within the framework of the ceasefire agreement.

Guterres warned of the threat posed by terrorist groups, which still exists.

Regarding the European Union's military operation known as "IRINI", he revealed that this operation remains the only regional arrangement that acts under the aforementioned authorizations, during the period covered by the report between 16 April 2022 and 14 April 2023.

Libya has been in chaos since a NATO-backed uprising toppled longtime leader Muammar Gaddafi in 2011. The county has for years been split between rival administrations, each backed by rogue militias and foreign governments.

The current stalemate grew out of the failure to hold elections in December 2021, and the refusal of Prime Minister Abdel-Hamid Dbaiba, who is leading the transitional government, to step down. In response, the country's eastern-based Parliament appointed a rival Prime Minister, Fathi Bashagha, who has for months sought to install his government in Tripoli.