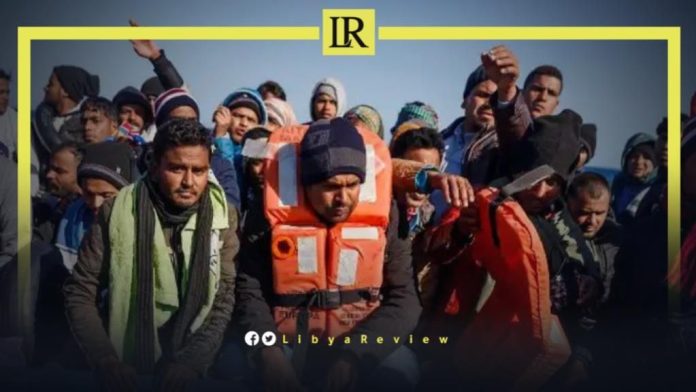 Three Bangladeshi human traffickers were arrested in Libya, on charges of kidnapping and torturing migrants, the Libya Ministry of Interior stated on Tuesday.

The kidnappers used to record videos of the victims, and send these clips to the victims' families for ransom.

The Ministry said that the Criminal Investigations Department (CID) had monitored the traffickers after receiving information about their activities.

The police obtained a video clip incriminating the accused, as they were torturing a Bangladeshi migrant. The police contacted the migrant who appeared in the video clip, after his family paid the ransom, and was released. He reported that another person was kidnapped in the same place where he was being held, a house in the Abu Salim district of Tripoli.

The CID found a handcuffed Bangladeshi migrant with signs of beating and torture. He relayed the story of his kidnapping, and the demand for his ransom. The gang was transferred to the Public Prosecution for legal measures.

In March, a Bangladeshi migrant was released after paying a ransom of about $30,000 dollars to a human trafficking gang in Libya. He was kept in a secret location for about two years.

Arif Ahmed, 24, made a deal with local agents to migrate to Italy, at a cost of Tk 1.2 million (around $11,000 dollars). However, he ended up in a prison in Libya, where he was subjected to torture.

The gang in Libya sent a video of Arif being tortured. He was seen with marks of serious injuries on his eyes, hands, and legs in the video. He was crying at the time, and was begging for his release. Later, this video went viral on social media.

"His physical condition is not good. He is undergoing treatment in Libya at the moment. We are trying to bring him back as soon as possible," he concluded.

In May 2020, the family of a human trafficker killed by migrants for unknown reasons allegedly avenged his death by killing twenty-six Bangladeshis, and four African migrants in the city of Mizdah.

Notably, the UN Independent Fact-Finding Mission (FFM) to Libya expressed its deep concerns over the country's deteriorating human rights situation.

In its report in March 2023, the Mission stated that "there are grounds to believe a wide array of war crimes and crimes against humanity have been committed by state security forces and armed militia groups."

It noted that investigations "documented numerous cases of arbitrary detention, murder, rape, enslavement, extrajudicial killing, and enforced disappearance." As well as noting that nearly all survivors interviewed had refrained from lodging official complaints, out of fear of reprisals, arrest, extortion, and a lack of confidence in the justice system.