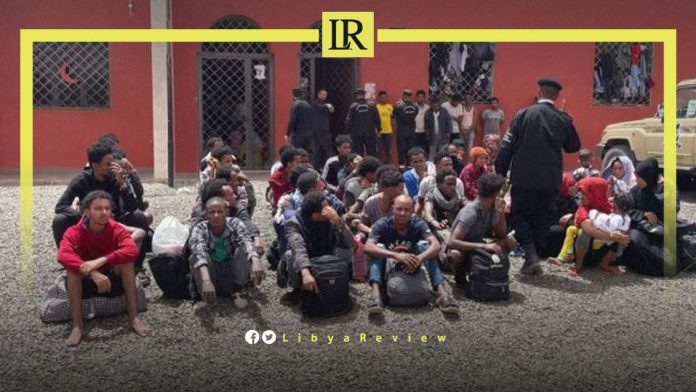 The Anti-Illegal Immigration Agency, Kufra Branch, discovered three secret prisons run by a gang consisting of 13 people of different nationalities, including Libyan citizens.

The agency reported, through its media office, that the gang was asking for ransoms from the families of its victims, estimated at about 100,000 dinars per person, equivalent to about $20,000 dollars.

The agency confirmed that those arrested were transferred to the Public Prosecution, and that 60 migrants were released. As well as arrest warrants being issued for foreigners and Libyans accused of running these secret prisons.

The agency indicated that these prisons are all located in the city of Kufra, namely: Al-Nakhil project farms in the western Al-Jawf, Al-Hawari farms, and a rest house near Kufra airport.

In January, an Eritrean human trafficker, Kidane Zekarias Habtemariam, who headed a notorious Libya-based trafficking gang was arrested in Sudan, according to a statement issued by Interpol on Thursday.

His gang held thousands of African refugees and migrants bound for Europe in warehouses in Libya, and extorted thousands of dollars from them and their families, Reuters reported in June.

He was picked up on New Year's Day, in a multinational police operation, overseen by the United Arab Emirates. Kidane had been on the run since his February 2021 escape from a courthouse in Ethiopia, where he spent a year behind bars.

Brigadier Saeed Abdullah Al-Suwaidi, Director General of the UAE's Federal Anti-Narcotics Department stated that Kidane's criminal enterprise "had been neutralized."

According to the statement by Interpol who issued a red notice, Emirati police managed to discover his whereabouts by extensively investigating his network's money laundering operations.

"It is a testament to the Interpol network, and what can be achieved when countries work together," explained Stephen Kavanagh, Executive Director of Interpol Police Services.

Pursued by authorities on either side of the Mediterranean for years, Kidane took advantage of the lawlessness that wracked Libya after the overthrow of Muammar Gaddafi in 2011. He established himself as a kingpin among competing human trafficking bosses in North Africa.