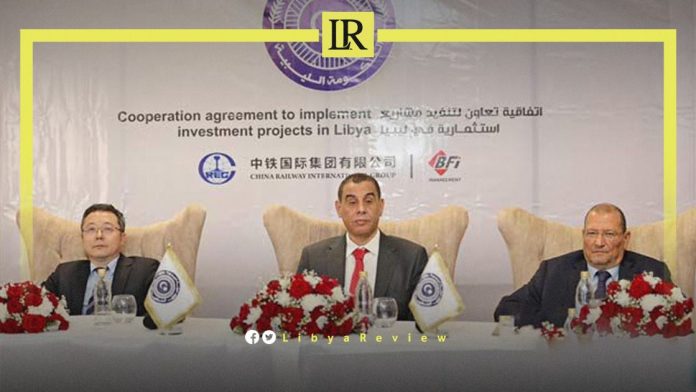 On Wednesday, the Libyan Parliament-designated government, headed by Fathi Bashagha signed a cooperation agreement with a number of international companies to implement investment projects to rebuild infrastructure.

In a statement, the government stated that the Minister of Investment, Ali Al-Saidi signed the agreement with the China Railway Group (CREG), BFi Management, and the Arup Group Limited, to implement various reconstruction and infrastructure projects in Libya.

The agreement comes after a series of meetings between Libyan officials and representatives of those companies. These will undertake the implementation of reconstruction projects in several cities and villages, especially with regard to roads, transportation, hospitals, and others.

On his part, Deputy Prime Minister Ali Al-Qatrani said that "the implementation of reconstruction projects in Libya will contribute to improving the quality of life for citizens in all regions of the country."

On Monday, Bashagha, and his Al-Qatrani discussed the developments of the launching of the "Development of a Nation" project.

They also discussed the government's communication with the municipalities of the eastern region to list the stalled projects, and refer the issues to the Ministry of Local Government.

In April, Bashagha announced the "Development of a Nation" project. He said his government will allocate 1.5 billion Libyan dinars for the national project.

"Despite the difficulties and limited capabilities, my government seeks to maintain stability and serve the citizen," Bashagha said.

He has also allocated 100 million Libyan dinars to provide medicine for patients with tumours, kidney issues, and a number of chronic diseases.

Moreover, Bashagha hailed the role of the 5+5 Joint Military Commission (JMC), and the recent bilateral visits aimed at unifying military institutions. He also said he will meet his rival PM, Abdel-Hamid Dbaiba, only if he cedes power.

Parliament Speaker, Ageela Saleh met with Al-Qatrani last month and stressed the need to liquidate the sums required for the government to implement its programs. During the meeting, they also discussed ways to solve problems facing the support of the government sector and Ministries, in addition to supporting the distribution of fodder.

Libya has been in chaos since a NATO-backed uprising toppled longtime leader Muammar Gaddafi in 2011. The county has for years been split between rival administrations, each backed by rogue militias and foreign governments.

The current stalemate grew out of the failure to hold elections in December 2021, and the refusal of Prime Minister Dbaiba, who is leading the transitional government, to step down. In response, the country's eastern-based Parliament appointed Bashagha, who has sought to install his government in Tripoli for months.