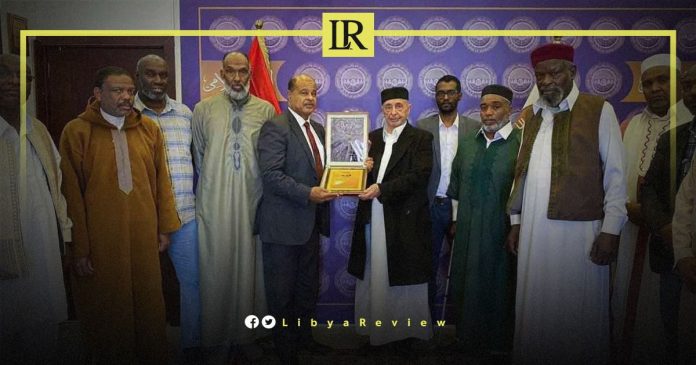 On Sunday, the Speaker of the Libyan Parliament, Ageela Saleh received a delegation of sheikhs and notables of the Jaghbub region, southeastern Libya.

The meeting was held at Saleh's office in the city of Al-Qubba, as the two sides discussed the situation and developments in the country.

According to a statement, the delegation affirmed its "support for Parliament in its capacity as the legitimate authority representing the will of the Libyan people. It also confirmed the necessity of holding Presidential and Parliamentary elections."

"At the end of the meeting, the delegation honoured the Speaker of Parliament in appreciation of his national stances," the statement said.

Last month, Saleh received the Prime Minister of the Parliament-designated government, Fathi Bashagha.

The two sides discussed the government's support for the 6+6 Joint Committee. This was formed by the Libyan Parliament and the High Council of State (HCS) to establish electoral laws, under the 13th Constitutional Amendment.

Bashagha and Saleh also discussed the situation in Libya, in the presence of the Minister of State for Legislative Authority Affairs, Mohamed Abu Zagiya.

Bashagha submitted a draft law prepared on the administration of local government, and the establishment of governorates. The proposal aims to decentralise the state, and deliver services to all municipalities to achieve the principle of justice and fairness.

Libya has been in chaos since a NATO-backed uprising toppled longtime leader Moammar Gaddafi in 2011. The county has for years been split between rival administrations, each backed by rogue militias and foreign governments.

The current stalemate grew out of the failure to hold elections in December 2021, and the refusal of Prime Minister Abdel-Hamid Dbaiba, who is leading the transitional government, to step down. In response, the country's eastern-based Parliament appointed Bashagha, who has for months sought to install his government in Tripoli.