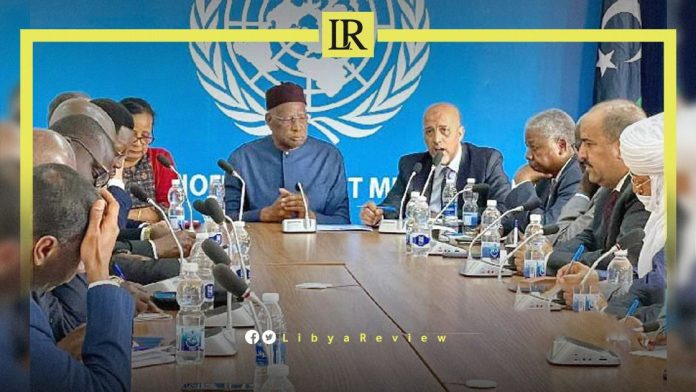 On Tuesday, the UN Envoy to Libya and the Head of the United Nations Support Mission in Libya (UNSMIL), Abdoulaye Bathily received several African diplomats accredited to Tripoli.

During the talks, the UN Envoy briefed them on UNSMIL's recent activities. In addition to the political and security challenges facing the country and the region.

Bathily also reiterated his support for national reconciliation as undertaken by the Presidential Council, with the assistance of the African Union.

In turn, the African diplomats underlined the importance of "strengthening coordination among regional actors to foster security, as well as our support for Libyan actors to achieve free, peaceful, and inclusive elections."

Earlier today, Bathily received a delegation of notables and activists from the southern region. During the meeting, he stressed the need for Libya to "heal the wounds of the past and move forward toward a peaceful future where all Libyans equitably benefit from the country's abundant resources."

During his latest briefing to the United Nations Security Council (UNSC) in March, he announced a mechanism to bring together the various Libyan parties concerned.

This includes representatives of political institutions, prominent political figures, tribal leaders, civil society organizations, security actors, and representatives of women and youth, to facilitate the adoption of a legal framework and a binding timetable for holding elections in 2023.

The UNSC welcomed the gradual progress of the new constitutional amendments in Libya. It affirmed its support for holding elections in the country, according to a statement seen by Italy's news agency, Nova.

"Individuals or entities that threaten the peace, stability or security of Libya, or hinder or undermine the successful completion of its political transition, can be designated under sanctions by the Security Council," the UNSC warned.

The UNSC emphasized the need for "a new impetus" to ensure a legal basis and political agreement, essential for the holding of free, fair, transparent, inclusive, and secure Presidential and Parliamentary elections in 2023.

Oil-rich Libya plunged into chaos after a NATO-backed uprising toppled and killed longtime leader Muammar Gaddafi in 2011. In the chaos that followed, the county split, with the rival administrations backed by rogue militias and foreign governments. The country's current political crisis stems from the failure to hold elections on 24 December 2021.