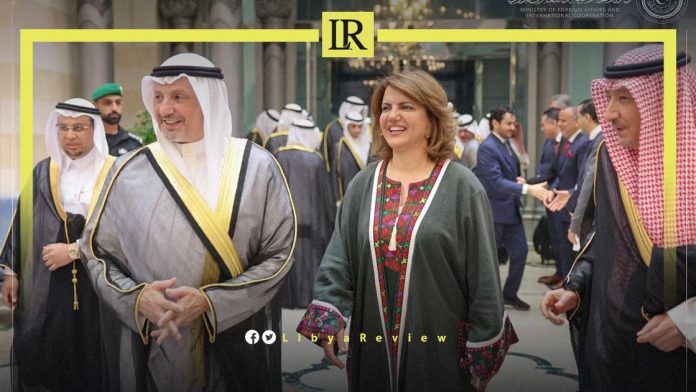 The Libyan Minister of Foreign Affairs, Najla Al-Mangoush accompanied by the Kuwaiti Foreign Minister, Salem Abdullah Al-Jaber Al-Sabah and their delegations, arrived, on Tuesday evening in Jeddah, Saudi Arabia. They will be participating in the preparations for the Arab League summit.

According to a statement by the Libyan Ministry of Foreign Affairs, Al-Mangoush will hold, on the sidelines of the summit, a number of bilateral meetings with her Arab counterparts.

On Monday, Al-Mangoush arrived in Kuwait from the Sultanate of Oman, and before that Qatar and Bahrain. She embarked on a tour since Saturday, in anticipation of the Arab summit in Jeddah, Saudi Arabia, on 19 May, in order to mobilize Arab support for Libya's elections.

On Sunday, a Saudi diplomatic delegation arrived in Libya to discuss the necessary arrangements for the reopening of the Saudi Embassy in Tripoli, according to the Libyan Foreign Ministry.

The delegation landed at Tripoli's Mitiga International Airport, and was received by a senior Libyan delegation headed by the Director of the Administrative and Financial Affairs Department of the Ministry, Rashid Abu Ghafah, and the Director of the Arab Affairs Department, Khalifa Al-Qaidi.

Abu Ghafa stressed "the depth of the historical relations that bind the two brotherly countries, and the keenness of the Government of National Unity (GNU) to strengthen them and push them to broader horizons in order to achieve common interests between the two countries."

In 2014, the Saudi authorities decided to close the Kingdom's embassy in Tripoli due to the deteriorating security situation.

Libya has been in chaos since a NATO-backed uprising toppled longtime leader Moammar Gaddafi in 2011. The county has for years been split between rival administrations, each backed by rogue militias and foreign governments.