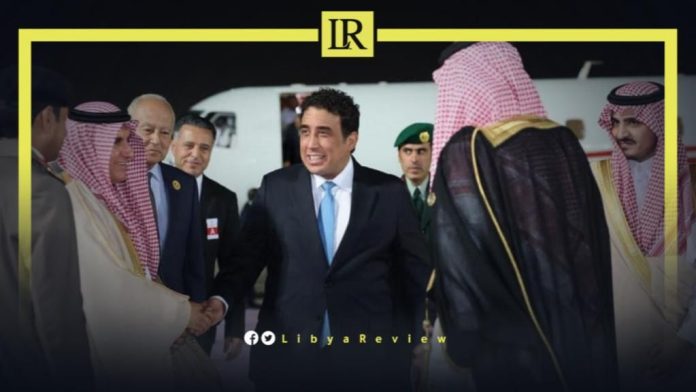 On Thursday evening, the Head of the Libyan Presidential Council, Mohamed Al-Mnifi arrived in Jeddah, Saudi Arabia to participate in the 32nd Arab League Summit.

Al-Mnifi was welcomed at King Abdulaziz International Airport by the Deputy Emir of the Mecca Region, Prince Badr bin Sultan bin Abdulaziz, and the Secretary-General of the Arab League, Ahmed Aboul Gheit.

The main topics of discussion at the summit include regional security, economic cooperation, and the ongoing conflicts in the region.

The Libyan Minister of Foreign Affairs, Najla Al-Mangoush accompanied by the Kuwaiti Foreign Minister, Salem Abdullah Al-Jaber Al-Sabah and their delegations, arrived on Tuesday evening to Jeddah.

According to a statement by the Libyan Ministry of Foreign Affairs, Al-Mangoush will hold, on the sidelines of the summit, a number of bilateral meetings with her Arab counterparts.

Notably, Aboul Gheit said that Libya's crisis remains a political stalemate.

Addressing the preparatory ministerial meeting, Aboul Gheit called on the Libyan parties to "hold dialogue and agree on a constitutional basis leading to elections."

He noted that new approaches are needed in order to break the deadlock. As well as adding that the crises in Libya, Syria, and Yemen had "paved the way for more effective Arab involvement in promoting settlement and addressing the consequences."

On his part, Algerian Foreign Minister, Ahmed Attaf, the Head of the Arab Foreign Ministers meeting, called for solving inter-Arab problems within the Arab League, stressing that the upcoming summit "seeks to unify the language in order to face the challenges facing the region."

Attaf said Arab countries "should focus on joint Arab action to confront global challenges."

He supported Saudi Arabia's efforts to bring about a ceasefire in Sudan, and to solve the Libyan crisis peacefully. He stressed the need to continue efforts to achieve Palestinian reconciliation and national unity.