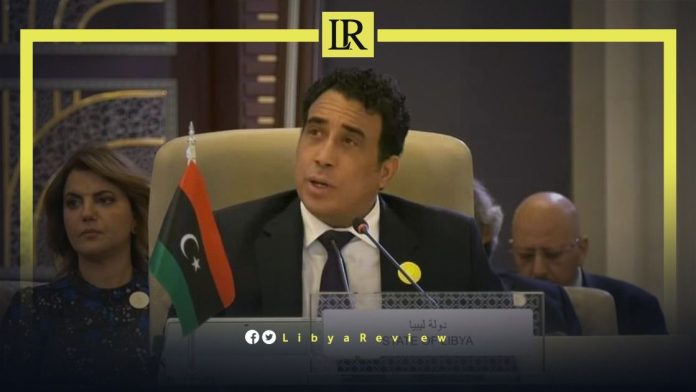 The Head of the Libyan Presidential Council, Mohamed Al Mnifi, called on the Arab countries to adopt a unified Arab position towards Libya. This includes stopping negative and non-constructive interference in the country's internal affairs and the withdrawal of all mercenaries and foreign forces.

Addressing the 32nd Arab Summit in Jeddah, Saudi Arabia on Friday, Al Mnifi stressed the need to employ any dialogue for completing the implementation of the road map by strengthening political legitimacy through elections.

The Libyan Head of the Presidential Council urged the Arab League to support the efforts of the African Union (AU) and the United Nations (UN) in achieving comprehensive national reconciliation and holding the long-awaited elections before the end of 2023.

He also called for outlining financial arrangements to manage the country's revenues and ensure that they are not used for the benefit of any certain political parties.

Al Mnifi expressed his continued support for the House of Representatives and the High Council of State (HCS) in their efforts aimed at drafting the electoral laws.

He also praised Saudi Arabia's efforts to unify the Arab countries and find solutions to the current crises in some Arab countries.
Notably, Arab leaders agreed in the final statement Arab League Summit on the need to unite to solve Arab nation's issues.

As for the situation in Libya, the summit's final statement affirmed commitment to the unity, sovereignty, and territorial integrity of Libya, the rejection of all types of external interference, and the refrain from escalation.

Addressing the preparatory ministerial meeting on Thursday, the Secretary-General of the Arab League, Ahmed Aboul Gheit said that Libya's crisis remains a political stalemate.

Aboul Gheit called on the Libyan parties to "hold dialogue and agree on a constitutional basis leading to elections."

He noted that new approaches are needed in order to break the deadlock. As well as adding that the crises in Libya, Syria, and Yemen had "paved the way for more effective Arab involvement in promoting settlement and addressing the consequences."

On his part, Algerian Foreign Minister, Ahmed Attaf, the Head of the Arab Foreign Ministers meeting, called for solving inter-Arab problems within the Arab League, stressing that the upcoming summit "seeks to unify the language in order to face the challenges facing the region."

Attaf said Arab countries "should focus on joint Arab action to confront global challenges."

He supported Saudi Arabia's efforts to bring about a ceasefire in Sudan and to solve the Libyan crisis peacefully. He stressed the need to continue efforts to achieve Palestinian reconciliation and national unity.