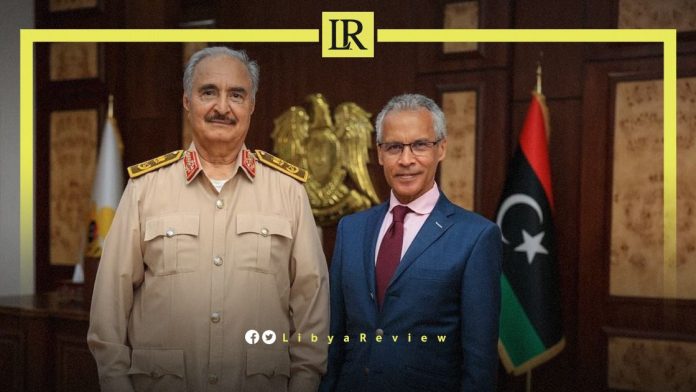 On Sunday, the General Commander of the Libyan National Army (LNA), Field Marshal Khalifa Haftar held a meeting with the French Ambassador to Libya, Mostafa Mihraje in Benghazi.

The meeting dealt with the current situation in Libya and the latest developments. It was attended by the military attaché at the French Embassy.

The two sides affirmed the importance of a political solution based on, and in support of the efforts of the UN Secretary General's Special Representative, Abdoulaye Bathily.

Mihraje noted that Paris' priority was "peace and security in Libya and the wider region. As well as the restoration of full sovereignty for Libyans over their territories."

The Ambassador made his first to Benghazi in November, where he discussed France's role in Libya, and strengthening joint economic cooperation.

On 11 March, he held a meeting with Bathily, during which, they affirmed his support for his initiative to hold elections in Libya before the end of this year.

The French Embassy in Libya confirmed that representatives of France, Germany, Italy, the UK, and the US are in Libya to express their support for Bathily's initiative. As well as to obtain the support of Libyan leaders for the roadmap leading to elections.

The representatives stressed in their meetings with the Libyan authorities the necessity of reaching settlements to hold the elections and to enable the Libyan people to fulfill their desire to choose their leaders

In March, Bathily told the UN Security Council that he has decided to launch an initiative aimed at holding Presidential and legislative elections this year.

"In this regard, I plan to establish a High-level Steering Panel for Libya," Bathily remarked in the Security Council's meeting on Libya.

The proposed mechanism will bring together all relevant Libyan stakeholders, including representatives of political institutions, major political figures, tribal leaders, civil society organizations, security actors, women, and youth representatives, according to the UN envoy.

"In addition to the facilitation of the adoption of the legal framework and time-bound roadmap to the holding of elections in 2023, the proposed Panel will also provide a platform to advance consensus around related matters, such as election security and the adoption of a Code of Conduct for all candidates," he added.