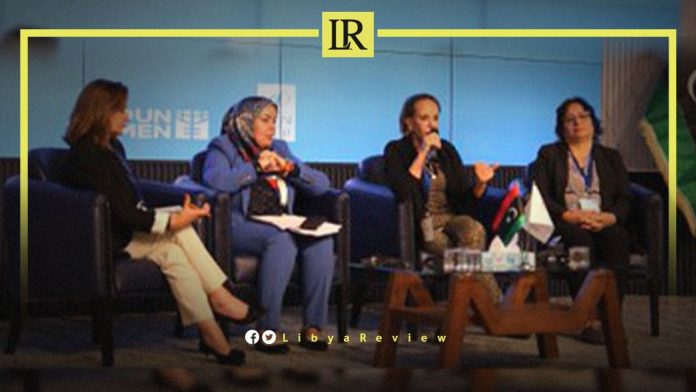 More than 100 members of civil society organizations and the Arab Network of Electoral Management Bodies participated in a regional conference organized by Libya's High National Elections Commission (HNEC).
In a statement, the UN Support Mission to Libya (UNSMIL) said that the Minister of Women's Affairs, Dr Horiya Termal, female MP's, the Libyan Women's Union, and the Media Support Fund Centre took part in the event.
The conference was part of the ongoing support from UNSMIL, UNDP, and UN Women to HNEC. It focused on increasing female participation in elections, through the implementation of successful outreach programmes such as those aimed at increasing voter and candidate registration for women in Libya, the promotion of conducive and gender-sensitive electoral legislation, and sharing learnings from across the region.
"The role of Arab women has always been the foundation stone in society," said Emad Al- Sayeh, Chairman of HNEC. "Despite the relatively new experience of elections in Libya, we aim to have inclusive elections, and HNEC will be the bridge that allows Libyan women to take a greater part," he added.
HNEC Commissioner, Rabab Halab showcased the preliminary results of the eMonitor+ platform provided by UNDP, which monitors electronic violence against women in the elections. Haleb highlighted that female candidates in Libya were more likely to be targeted by psychological violence, and that sometimes this moved into threats to life. She added that HNEC was now using data to develop evidence-based plans, to counter online violence against women during the elections.
After conducting a recent analysis, Ghada Kannou, Women, Peace, and Security and Humanitarian Assistance Programme Officer of UN Women Libya, showed how women generally in Libya faced the most abuse on Facebook, followed by Club House. An analysis of 91,978 comments for key political pages on Facebook found 76.5% to be misogynistic, and 63% of these to be offensive to women.
"Social media platforms have not mastered the Arabic language and its nuances and trends," said Isadora Moura, Head of UN Women in Libya. "This leaves women using the platforms open to attack as artificial intelligence is not being developed to understand the context of language, emojis and how humour can be used to bully and demean. All electoral stakeholders need to provide more protection for women engaging in politics in Libya."
Representatives from regional civil society organisations highlighted the commonalities in the region around the importance of putting in place inclusive electoral legislation. As well as the discrimination faced by many women across the region.
According to the Inter-Parliamentary Union, women won an average of 26% of seats across 47 countries around the world in 2022. This drops to 16% in the Middle East and North Africa – the lowest for any region in the world.
Closing the conference, UNDP Libya Representative, Marc-Andre Franche said that "for the first time in history, there is not a single Parliament in the world, including Libya, that is exclusively male."
"We applaud the work of HNEC and the eMonitor+ initiative," Franche said. "The electoral process begins long before polling day. It includes discussion and ideas, forming of groups and calling for action, exercising our rights and our responsibility to participate in shaping the kind of societies we want to live in," he added.