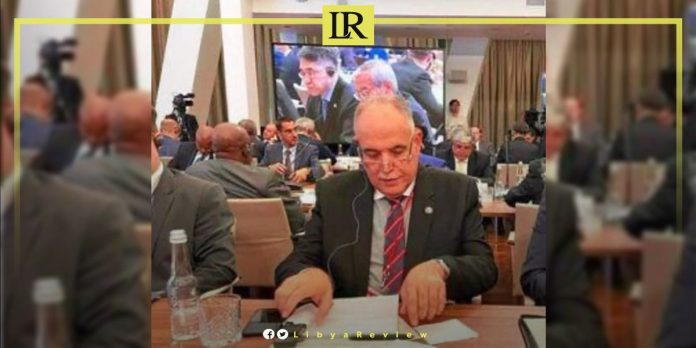 On Wednesday, Libyan National Security Adviser, Ibrahim Bushnaf took part in the 11th session of the International Security Forum, held in Moscow.

More than 100 countries are participating in the forum, including Libya, in the presence of Russian Foreign Minister, Sergey Lavrov and Russian President, Vladimir Putin, who delivered a speech at the opening session of the forum.

Russia's Security Council Secretary, Nikolai Patrushev inaugurated the international forum, which touched on files related to ensuring national, regional, and global security.

Petrushev also invited Bushnaf to participate in the forum at the head of a high-ranking Libyan delegation, where he will meet several of his international counterparts on the sidelines of the forum.

Various Secretaries of security councils, national security advisors, and aides to heads of state, deputy prime ministers, heads of security agencies, and special services participated in the forum.

In March, the Head of the United Nations Support Mission in Libya (UNSMIL), Abdoulaye Bathily received Bushnaf at the mission's office in Benghazi.

Bushnaf said in a statement, that the meeting "discussed several important files, foremost of which was the push for the holding of Parliamentary and Presidential elections in Libya."

The two sides agreed on the need to "move forward in working to bring points of view closer, to ensure the success of these elections, and end the transitional period that has extended in Libya over the past 12 years."

Libya has been in chaos since a NATO-backed uprising toppled longtime leader Muammar Gaddafi in 2011. The county has for years been split between rival administrations, each backed by rogue militias and foreign governments.

The current stalemate grew out of the failure to hold elections in December 2021, and the refusal of Prime Minister Abdel-Hamid Dbaiba, who is leading the transitional government, to step down.