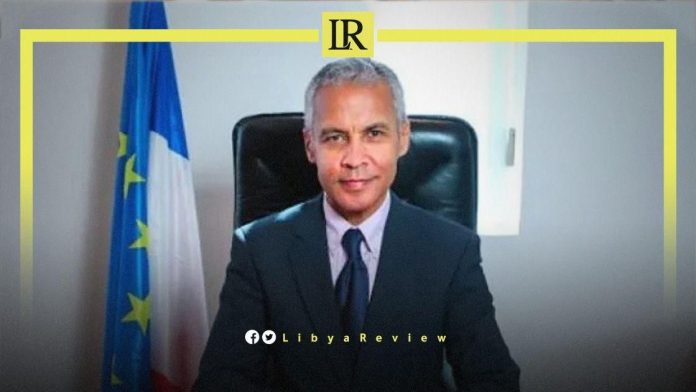 On Wednesday, the French Ambassador to Libya, Mostafa Mihraje, said that "holding elections in Libya is a necessary step towards the country's stabilisation," vowing that "those who spoil the democratic atmosphere and violate human rights in Libya will be subject to sanctions."

In press statements, the Ambassador stated that the European Union "will impose harsh sanctions against those who threaten the stability and hinder the political transition in Libya," stressing that there is an international consensus on the importance of holding elections.

He added that "it is necessary to ensure that all candidates are on an equal footing and that public money cannot be utilised for running electoral campaigns."

In addition, Mihraje revealed that "there are some influential personalities in the Libyan arena who are already afraid of losing their power in case the upcoming Presidential elections are held."

Despite these concerns, the French diplomat noted that "no one has publicly voiced his rejection against holding the elections, calling to ensure fair and transparent electoral competition among all candidates and the need for everyone to accept the results of such elections."

On Tuesday, the 6+6 Joint Committee, entrusted by the Libyan Parliament and the High Council of State (HCS) with the drafting of electoral laws, called for the formation of a unified government that paves the way for holding elections across the country.

This meeting, which was held in Morocco, aimed at drafting laws to organize the elections, in accordance with the roadmap announced by the UN Envoy, Abdoulaye Bathily in February.

In a statement read by the Head of the HCS delegation, Omar Buleifa said that the upcoming Presidential and legislative elections "will be held simultaneously." He announced that they had "achieved complete consensus regarding the controversial points related to the process of electing a president for Libya, and the National Assembly."

Buleifa added that they also "agreed on the mechanism of engaging the political parties in the coming Parliamentary elections, whether through party lists or individual candidates."

He stated that "the next legislative authority will consist of two chambers, namely the Parliament and the Senate."

Furthermore, significant headway has been made in determining the allocation of seats for both houses, ensuring fair representation for all Libyans.

This crucial step is seen as a significant contribution towards the long-awaited elections, which hold the promise of ending the years of chaos and instability in the country.

The announcement came after productive discussions during the two-day meeting in Morocco, with the aim of establishing a constitutional foundation for the upcoming Libyan elections.

The meeting is also a continuation of the series of meetings hosted by Morocco, bringing together different Libyan parties to deepen the dialogue on ways and means to resolve the crisis in this country in an approach that promotes the appropriate space for dialogue and constructive consultation.

Previous meetings have discussed technical aspects with the electoral commission and legal elements with the Attorney General, particularly with regard to issues related to candidates.