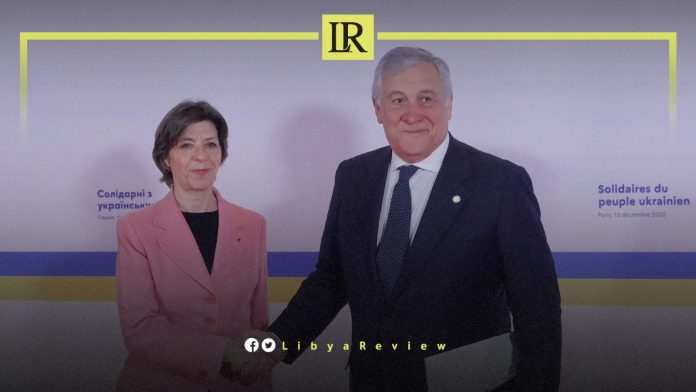 French Foreign Minister, Catherine Colonna and her Italian counterpart, Antonio Tajani have expressed their full support for the efforts of the UN Envoy to Libya, Abdoulaye Bathily.

This came in a statement issued by the French Foreign Ministry, after Colonna's visit to Rome on Thursday. The meeting emphasised the "full importance of French-Italian cooperation in facing the challenges facing both countries," according to the statement.

On Wednesday, Bathily co-chaired the first plenary session of the Security Working Group of the Berlin Process International Follow-Up Committee on Libyan soil.

In a statement, the UN Support Mission to Libya (UNSMIL) said that the meeting participants included members of the Joint Military Commission (5+5); additional co-chairs, including ambassadors from the United Kingdom, and the African Union, and the chargé d'affaires of the French and Italian embassies in Libya; ambassadors and representatives from Russia, Algeria, Egypt, Germany, the Netherlands, Switzerland, the United Arab Emirates, and the European Union.

Representatives from the United States and the Arab League joined via video conference.

"I hope this meeting will be the first among a series of security working group meetings that can be held in different regions of Libya," Bathily said. "This will certainly contribute to advancing the political process, and to create a conducive environment for holding free and inclusive elections in 2023, with results accepted by all parties."

The UN Envoy added that "formidable challenges remain ahead for Libya on its path to elections, including ensuring a safe and secure environment, addressing the issue of armed formations, advancing national reconciliation and transitional justice, and protecting human rights and international humanitarian law. I count on your cooperation in creating the necessary conditions for peace and stability in Libya. I urge you to seize this opportunity to consolidate your achievements and overcome your differences."

Noting the outbreak of war in neighbouring Sudan, Bathily warned that "armed groups and criminals may exploit the humanitarian emergency developing in border areas for their own interests." He expressed solidarity with the Sudanese people, who are suffering from "insurmountable violence", and called for an immediate cessation of hostilities and a peaceful resolution of the crisis.