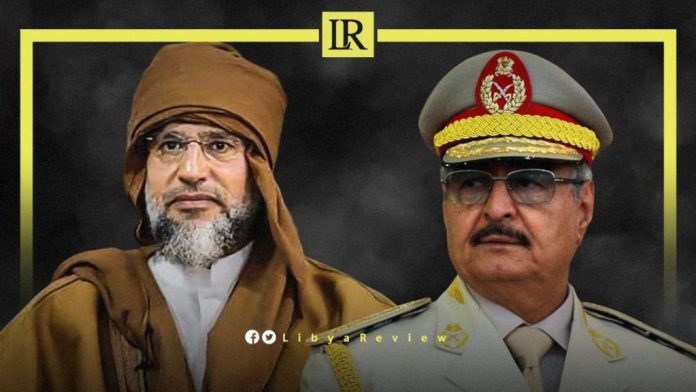 Sources in the Libyan 6+6 Joint Committee Commission, affiliated with preparing the electoral laws told Al-Arabiya news that General Khalifa Haftar, and the son of Muammar Gaddafi will be allowed to run for the upcoming Presidential elections.
The Commander-in-Chief of the Libyan National Army (LNA), Haftar and Saif Al-Islam Gaddafi submitted their applications to run for the elections, which were originally due to be held in December 2022. However, Gaddafi Jr. was excluded from the elections and Haftar was allowed to run.
Last week, the Committee, which was entrusted by the Libyan Parliament and the High Council of State (HCS) with the drafting of electoral laws, called for the formation of a unified government that paves the way for holding elections across the country.
This meeting, which was held in Morocco, aimed at drafting laws to organize the elections, in accordance with the roadmap announced by the UN Envoy, Abdoulaye Bathily in February.
In a statement read by the Head of the HCS delegation, Omar Buleifa said that the upcoming Presidential and legislative elections "will be held simultaneously." He announced that they had "achieved complete consensus regarding the controversial points related to the process of electing a president for Libya, and the National Assembly."
Buleifa added that they also "agreed on the mechanism of engaging the political parties in the coming Parliamentary elections, whether through party lists or individual candidates."
He stated that "the next legislative authority will consist of two chambers, namely the Parliament and the Senate."
Furthermore, significant headway has been made in determining the allocation of seats for both houses, ensuring fair representation for all Libyans.
This crucial step is seen as a significant contribution towards the long-awaited elections, which hold the promise of ending the years of chaos and instability in the country.