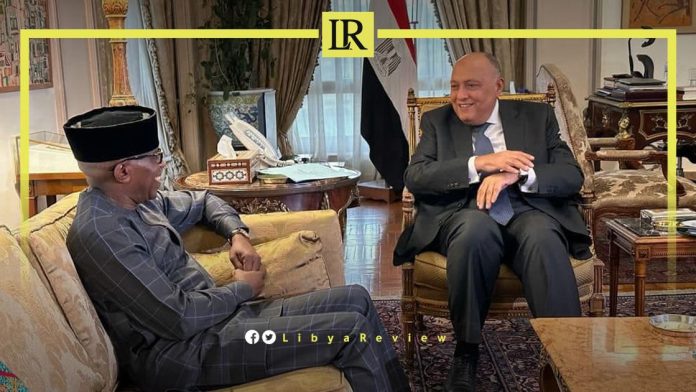 Egyptian Foreign Minister, Sameh Shoukry received the African Union Commissioner for Political Affairs, Peace, and Security, Bankole Adeoye. They discussed the increasing security challenges in Africa.

The meeting discussed reforming the African Peace and Security Council, and the developments in the situation in Libya.

They touched on the Peace Fund of the African Union, which plays a role in preventing conflicts, building capacities and supporting peace in Africa.

Shoukry expressed Egypt's "permanent welcome to dialogue with the African Union Commissioner on various issues related to Libya, and the peace and security in Africa." He pointed to Egypt's keenness to support the African Union.

Last week, the Chargé d'Affaires of the Egyptian Embassy in Tripoli, Tamer Mustafa confirmed his support for the UN efforts in Libya.

According to a statement by the Egyptian Foreign Ministry, Mustafa met with the Head of the United Nations Support Mission in Libya (UNSMIL), Abdoulaye Bathily.

The two sides discussed developments of the 6+6 Joint Committee concerned with reaching a consensus on Presidential and Parliamentary elections.

The Egyptian diplomat affirmed Cairo's support to UNSMIL, within the framework of the co-chairing of the economic working group emanating from the Berlin process.

Bathily reviewed his efforts in communicating with the spectrum of Libyan society, and international partners. He stressed the importance of holding elections as soon as possible, so that Libyans can exercise their legitimate constitutional rights, under an elected government and Parliament.

The UN Envoy praised the efforts of the working groups, noting the importance of continuing to "present ideas and solutions to help the Libyan people to unify institutions, economic reform, democratic transformation, rule of law, and respect for human rights."

Last month, Egyptian President, Abdel-Fattah El-Sisi called for joint Arab action to resolve the crisis in Libya, and other Arab war-torn countries.

During his speech at the Arab summit held in Jeddah, Saudi Arabia, El-Sisi confirmed the necessity to stop foreign interference to end the suffering of the people in Libya, Sudan, and Yemen.

"Relying on integration between us (Arab countries) is a duty and responsibility, and we should apply the concept of joint Arab action to be extended to global issues," he added.