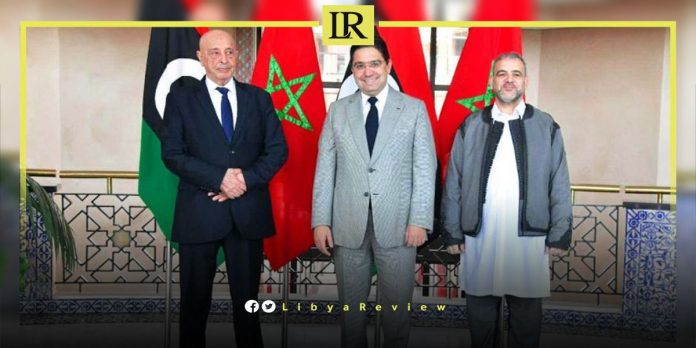 The Speaker of the Libyan House of Representatives (HoR), Ageela Saleh, and Chairman of the High Council of State (HCS), Khaled al-Mishri, are set to hold talks in Bouznika, Morocco next week to discuss the outcomes agreed upon by the 6+6 Joint Committee tasked with preparing election laws for the country's long-awaited parliamentary and presidential elections.
The anticipated meeting will revolve around the timeline and the formation of the new government that will be entrusted with supervising the elections.
The United Nations (UN) Envoy to Libya, Abdoulaye Bathily, and Moroccan Foreign Minister, Nasser Bourita, will attend the meeting, which also aims to address controversial points related to the process of electing a President for Libya and the National Assembly members.
In May, the 6+6 Joint Committee called for the formation of a unified government that paves the way for holding legislative and presidential elections across the country.
During its meeting in Morocco, the Joint Committee members stressed that the upcoming presidential and legislative elections will be held simultaneously, announcing that they had achieved complete consensus regarding the controversial points related to the process of electing a president for Libya and the National Assembly members.
They also agreed on the mechanism of engaging the political parties in the coming parliamentary elections, whether through party lists or individual candidates.
Furthermore, significant headway has been made in determining the allocation of seats for the HoR and the Senate, ensuring fair representation for all Libyan citizens.
This crucial step was seen as a significant contribution towards the long-awaited elections that hold the promise of ending the years of chaos and instability in the country.
Notably, the United Nations Support Mission in Libya (UNSMIL) vowed that it will provide technical and logistical support to the Committee to establish electoral laws.
Bathily has previously urged the leaders of the two chambers to expedite the work of the committee, and publish a timebound work programme.
"For elections to take place this year, the electoral laws must be completed in time for High National Elections Commission (HNEC) to begin implementing the electoral process by early July," Bathily said in his brief to the UN Security Council in March.