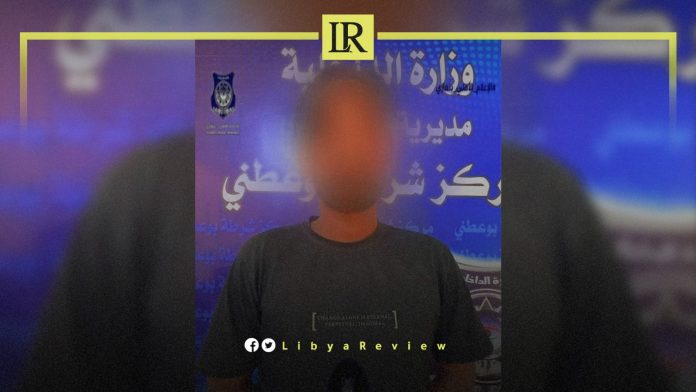 The Benghazi Security Directorate announced the arrest of a Bangladeshi man, who was part of an international human trafficking network. The detainee, who fled from the city of Tripoli, was involved in the abduction and torture of migrant workers.

In a statement, the Security Directorate said that information had been relayed to the detectives at the Bouatni Police Center about a Bangladeshi national who had come from Tripoli. He had rented a house in the Al-Masaken area, where he kidnapped Bangladeshi migrant workers, torturing them in return for ransom from their families.

The statement reported that the detainee had been smuggling people via the sea to European countries using Libyan shores, charging each person 10,000 Libyan Dinars.

Brigadier Khaled Al-Tarhouni, the Head of the Centre, immediately issued instructions for the search and capture of the individual. Following legal procedures and permission from the Public Prosecution, the suspect's house was raided, and he was detained. During the raid, another individual was found under duress; the victim revealed that the suspect had filmed him naked and demanded a ransom of 60,000 Libyan Dinars from his family.

The detained suspect was taken to the police center where, upon questioning, he confessed to the alleged crimes. On searching his phone, video clips were discovered showing the smuggling of illegal immigrants. All legal procedures have been taken against him, and he has been referred to the Public Prosecution.

Last month, the Algerian authorities managed to dismantle an international network specializing in trafficking people to Europe, through Libya, according to AFP.

Algerian police arrested nine Syrians and six Algerians suspected of belonging to the group, which trafficked Syrian and Lebanese nationals, the report said.

During a five-month investigation, the police uncovered a network that was transporting the migrants to Benghazi, according to the news website Ennaharonline.

The migrants would then be taken by road to the Libyan town of Ghadames, from which they would cross the border on remote paths through the desert to Debdeb on the Algerian side.