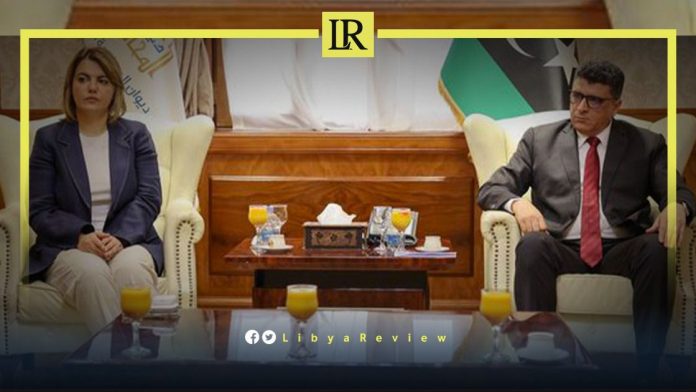 On Monday, Libyan Foreign Minister, Najla Al-Mangoush held a meeting with the Head of the country's Audit Bureau, Khaled Shakshak in Tripoli.

During the talks, they reviewed "ways of finding suitable and practical solutions for settling the debts resulting from the treatment of Libyan patients in foreign health institutions."

The meeting also tackled the foreign ministry's "spending framework and regulating select procedures for diplomats representing Libya overseas," according to a statement by the ministry.

The duo also discussed Libya's foreign debts, caused by the government's delay in reimbursing hospitals abroad.

Several hospitals in various Arab countries, especially in Tunisia and Jordan, continue to refuse to receive and treat Libyan patients. This is under the pretext of the Libyan state has failed to pay overdue debts to the clinics.

According to the Libyan news agency, patients who are being treated at the expense of the Libyan state reported that "the administrations of these sanatoriums, which had – removed them earlier, stopped their treatment."

They added that the clinics dealt with the Libyan patients "in a provocative manner without any regard for their difficult health conditions." The clinics also refused to readmit them and continue their treatment.

Such clinics refrained from dealing with letters addressed to them by the Libyan Embassy in Tunis and demanded that the outstanding debts be paid.

The witnesses explained that "this sudden measure included all patients in most of the clinics who suffer from tumours, heart disease, strokes, and other illnesses." They indicated their "inability to rent modest apartments and houses, most of which lack the most basic life necessities, including heating."

They affirmed that their "difficult health and financial conditions forced them to return home as a result of the delay in addressing the problem with the Tunisian clinics."

Libyan patients have repeatedly appealed to the authorities, led by the Ministry of Health, to intervene quickly to solve the issue.

Meanwhile, the Chairman of the Private Hospitals Association of Jordan, Fawzi Al-Hammouri has recently confirmed that they would accept patients from all countries, except Libya.

Al-Hammouri said that medical tourism from Libya has been suspended for more than a year. This is due to the accumulation of debts owed by the Libyan government, in excess of $211 million dollars, over the span of a decade.

He added that a committee from Libya visited Amman two months ago. This was to discuss the outstanding debts and review and audit all issued invoices.

Since the conflict in Libya broke out, Jordan has received Libyans seeking treatment, with their debts to private hospitals, hotels, and other companies piling on since.