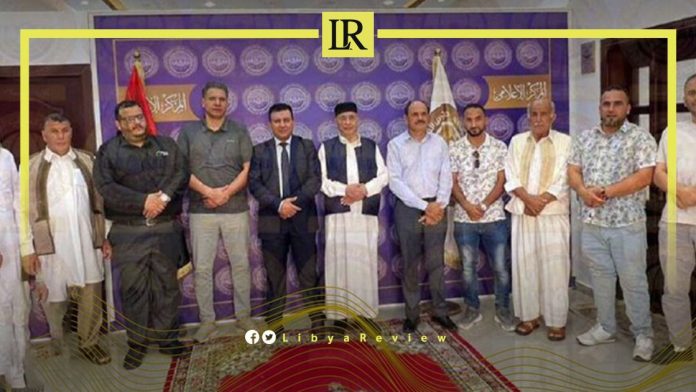 On Thursday, the Speaker of Libya's Parliament, Ageela Saleh held a meeting with members of the High Council of State (HCS), Belqasem Ghazit, Ali Boosta, and Mohamed Bouzgia, the State Minister for Legislative Authority Affairs.

A number of representatives of the Al-Bunyan Al-Marsoos military operation, dignitaries, and tribal leaders from Misrata also participated.

In a statement, the official Spokesman for the Libyan Parliament, Abdullah Blaiheg revealed that the discussions "delved into the current socio-political climate in Libya, with a specific focus on the upcoming Presidential and Parliamentary elections."

He added that Saleh "underscored the need for a comprehensive and inclusive electoral process, ensuring that all parties are given a fair chance to participate."

The meeting also served as a platform to explore avenues for national reconciliation.

Participants unanimously endorsed "unity and cohesion among the Libyan populace, and categorically denounced any forms of division or disunity."

This pivotal meeting signals a resolute commitment to forging a path toward political stabilization. Through inclusive electoral proceedings and robust national reconciliation efforts, Libya is poised to strengthen its unity, marking a significant stride toward lasting peace.

Saleh further clarified that his trip to Morocco was "strictly to respond to an invitation aimed at garnering political support for the Committee's agreement."

He revealed that "so far, no official legislation from the 6+6 Joint Committee – which is responsible for overseeing the election's regulatory aspects – has been received for consideration."

The Speaker asserted that "the Parliament has met its responsibilities concerning the electoral mandate. It has issued the constitutional base, and the 13th Constitutional Amendment established the 6+6 Committee, and previously enacted the laws for the Presidential and Parliamentary elections."

These comments underscore the ongoing challenges and potential obstacles in the way of Libya's electoral process, highlighting the need for transparent and effective laws to ensure a smooth and timely political transition.