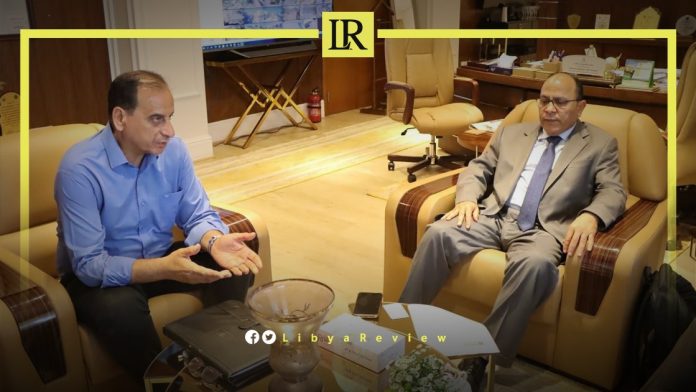 The Arabian Gulf Oil Company (AGOCO) has announced the resumption of work by Canadian company, Burza, in the Nafoura oil field.

In a statement on Sunday, the company explained that Mohamed Belqasim bin Shitwan, Chairman of the Management Committee of AGOCO, received Andre Desjardins and Mohamed Mansour, representatives of Burza.

The statement added that this move comes "as part of the plan developed by the management committee to restore the confidence of contractors, and encourage them to resume their activities at various sites."

The two sides discussed obstacles facing the Canadian firm and ways to overcome them. As well as providing the necessary assistance to carry out the mechanical overhaul work, and develop the control system for gas compressors at Station 3.

The statement explained that "the maintenance coordinator, along with representatives from Burza, visited the site to identify deficiencies, and inventory spare parts and materials so that work can be resumed as soon as possible."

The statement concluded that "this will provide 15 million cubic feet of compressed gas, which will contribute to increasing production rates at the field."

Notably, production resumed in the Sharara and El Feel oil fields, late Saturday evening. This is following their shutdown since Thursday, after the kidnapping of a former finance minister.

The El Feel field produces 70,000 barrels per day, and is operated by the Mellitah Oil & Gas Company, a joint venture between the National Oil Corporation (NOC), and Italy's Eni.

Two oil engineers at the Sharara field stated that production will return to its normal rate on Sunday morning, after partially resuming operations late Saturday. It produced 30,000 barrels per day, out of the usual 290,000 barrels, following the shutdown due to the kidnapping of the former finance minister.

The Sharara field is one of the largest oil-producing fields in Libya, with a capacity of 300,000 barrels per day. It has often been a target for protesters amid political disputes. The field is located in the Murzuq Basin in southern Libya, and is operated by the NOC through Akakus, in partnership with Repsol of Spain, Total of France, OMV of Austria, and Equinor of Norway.