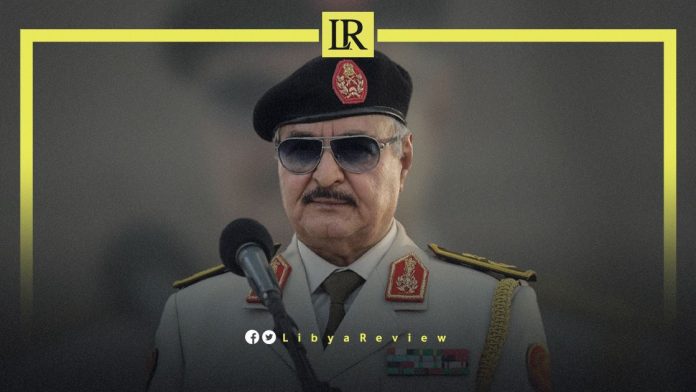 The Commander-in-Chief of the Libyan National Army (LNA), Field Marshal Khalifa Haftar vowed to "utilize all capabilities to support maintenance teams within the Great Man-Made River (GMR) Authority in eastern Libya."

Haftar met with the Head of the GMR's Administrative Committee, Ahmed Al-Deeb to discuss the latest developments regarding the operations and maintenance teams of the GMR Authority. This is following the acts of sabotage that targeted the Ajdabiya – Benghazi water transport lines.

The statement noted that the "support provided by the LNA aims to expedite the completion of maintenance work, so that water is available to all citizens."

The GMR Authority is responsible for managing and maintaining the Great Man-Made River project, which is one of the world's largest irrigation projects.

The project has been affected by the ongoing conflict in Libya, with the water supply being disrupted due to acts of sabotage, and attacks on infrastructure. The Authority has faced significant challenges in maintaining and repairing the water transport lines, due to the conflict.

Haftar's pledge to support the maintenance teams is a positive step towards ensuring that water supplies are restored. The project is crucial for the livelihoods of many Libyans, and its restoration will have a significant impact on the country's overall development.

On Saturday, the Director of the Media Office of the Man-Made River Authority, Salah Al-Saadi announced that 1.5 million Libyan citizens will be affected by the disruption in the water supply.

The halt, which comes as a result of a pipeline explosion, is likely to last for approximately one week. It primarily affects regions situated between Ajdabiya and Benghazi.

Al-Saadi affirmed that the Authority is "actively working on managing the crisis, focusing on extracting water from around the damaged pipeline. This extraction process will allow for damage evaluation and inspection. The authorities have been mobilised, with more than 10 digging machines, and over 25 water-transport tankers being put to use."

Furthermore, Al-Saadi stated that the General Company for Water and Sanitation, along with the Ajdabiya municipality, provided more than eight additional water extraction pumps. This step signifies the commitment and swift response of the authorities to mitigate the impact of the disruption on the local population.