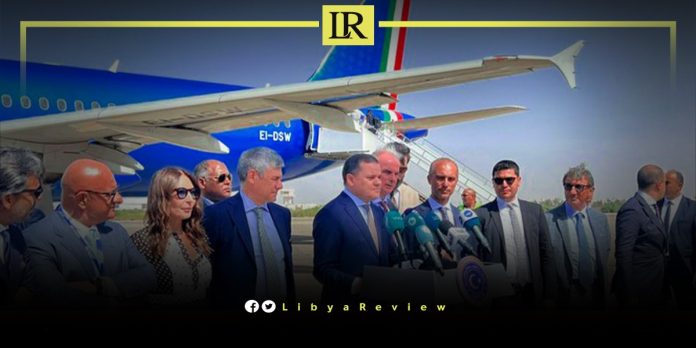 The Italian Embassy in Libya hailed the resumption of flights between Tripoli and Rome as an extraordinary success, achieved through joint efforts by Libya and Italy.

The Embassy celebrated this historic moment with a tweet: "After a hiatus of several years, the first direct flight of Alitalia has landed in Tripoli with Prime Minister of the Government of National Unity, Abdel-Hamid Dbaiba on board."

In his remarks following the arrival of Alitalia's inaugural flight, Dbaiba expressed his delight at returning from Rome to Tripoli after nearly a decade-long interruption.

Dbaiba further added that today's trial flight "signifies a practical step towards lifting the ban imposed on civil aviation at Libyan airports." He emphasised that the government "faces the task of abolishing the ban imposed on Libyan aircraft in the European Union, with today's step providing a significant push in that direction."

It is important to note that this historic moment for Libya and Italy is expected to stimulate travel and tourism between the two countries, opening up opportunities for economic development and cultural exchange.

"We will work to open an air route between Rome and Benghazi," Dbaiba said on Sunday.

Dbaiba's statement comes ahead of the Migration and Development Conference in Rome, which is taking place on Sunday.

The resumption of flights between Libya and Italy is a positive step towards restoring normal bilateral relations.