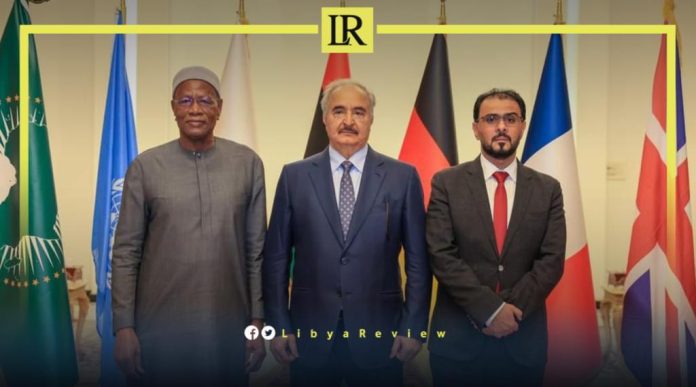 On Monday, the Commander-in-Chief of the Libyan National Army (LNA), and the Parliament-designated Prime Minister, Osama Hammad met with UN Envoy to Libya, Abdoulaye Bathily.

Foreign Ambassadors accredited to Libya participated in the meeting, which was held at the General Command headquarters in Benghazi.

According to a statement, Hammad praised the efforts of the LNA in combating terrorism, and purging the country of terrorists.

He also highlighted their role in "protecting the Libyan borders, facilities, oil installations in the east and south, water supply lines, combating illegal immigration, and securing all ports."

The Prime Minister affirmed that his government "has been working since its appointment to achieve development, and reconstruction of damaged cities. This is by providing opportunities for specialized companies from friendly countries such as Egypt, Turkey, and local companies from all over the country without exception."

Hammad said that "all these efforts came despite the financial constraints imposed by the Government of National Unity (GNU) on the Libyan people in the east and south, wasting unprecedented amounts of Libya's money with no benefit."

The Prime Minister said the government has "resorted to the administrative seizure of oil revenues and assets, and sought legal measures to impose guardianship over the seized assets."

It has also been working to give the Financial Committee formed by the Libyan Parliament an "opportunity to restructure and distribute budgets and resources, to the entire Libyan people to achieve social justice."

In turn, Haftar discussed the latest developments in Libya, as well as the importance of holding Parliamentary and Presidential elections with Bathily.