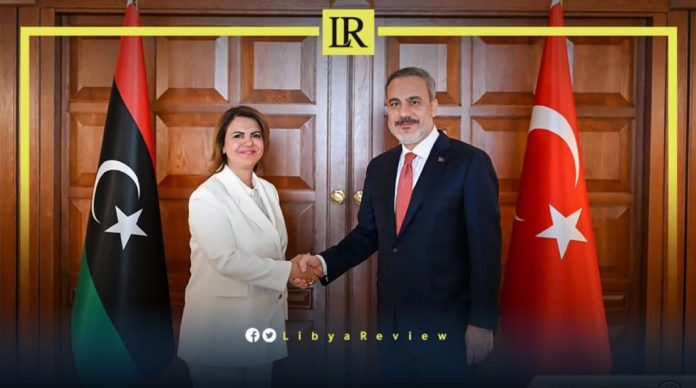 On Wednesday, Libyan Foreign Minister, Najla Al-Mangoush met with her Turkish counterpart, Hakan Fidan for the first time since his recent appointment.
The meeting took place in the Turkish capital Ankara.
Al-Mangoush is paying a one-day visit to Turkey, to discuss all aspects of bilateral relations and current regional and global developments.
Libya has been torn by civil war and instability since the ouster of longtime ruler Muammar Gaddafi in 2011.
Libya and Turkey share a complex and often turbulent history. Turkey has long played a significant role in Libyan affairs. In recent years, relations have been influenced by various factors including the NATO-led intervention in Libya in 2011, the subsequent civil war, and the ongoing struggle for power among different Libyan factions.
Over the past decade, Turkey has been a key supporter of the former Government of National Accord (GNA) in Libya. This support has been both political and military. For example, Turkey has provided the GNA with military equipment and has even deployed troops and Syrian mercenaries to Libya to support the GNA against the Libyan National Army (LNA) led by Field Marshal Khalifa Haftar.
Despite this support, relations between the two countries have been strained at times. There have been disagreements over maritime boundaries in the Mediterranean. As well as concerns in Libya about Turkey's growing influence in the country.
The recent incident involving the prevention of Libyan officials from travelling to Turkey indicates a new point of tension in the relationship. This incident could potentially affect future diplomatic interactions and negotiations between the two countries.
However, the recent meeting between the FM's might indicate a desire from both sides to maintain dialogue, and address any issues diplomatically. How this situation will develop and its impact on the broader relationship between the two countries remains to be seen.