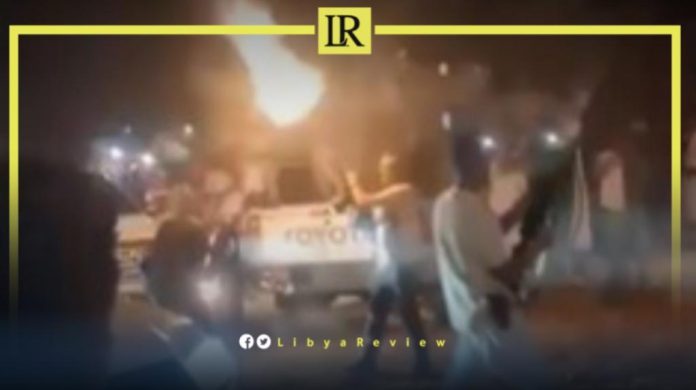 Videos have emerged showing celebrators at a Libyan wedding firing anti-aircraft machine guns, sparking widespread criticism.

The practice of firing weapons at weddings and other social events is a common phenomenon in many Arab countries, including Libya, which is known for its high concentration of weapons.

Innocent bystanders often become victims of this reckless behaviour. In one video circulating on social media, participants at a wedding in Sebha, southwest of the country, are seen using Soviet-made PKT machine guns, which can fire approximately 250 rounds per minute.

These weapons are versatile, and come in several types, with the ability to penetrate light vehicles and target infantry in battle. They can also affect low-flying helicopters and are characterised by high firepower. Their effective range is between 900-1000 meters.

In 2016, Benghazi's Jalaa Hospital for Surgery and Accidents recorded 63 fatalities and 264 injuries due to random gunfire, according to local media reports.

The United Nations has acknowledged that Libya has one of the largest stockpiles of unsecured weapons and ammunition in the world, with an estimated 20 million pieces of light, medium, and heavy weapons in the country.

In response, a court in southern Libya has ruled that marriage contracts cannot be signed, unless the bride and groom agree not to allow celebratory gunfire during the wedding ceremony.

The chief judge of the court, Rida Abu Al-Qasim Moutawakil issued a formal letter to the court in Sebha, emphasizing that marriage contracts cannot be approved by Islamic clerics, without the required pledge. The Sebha security department has already finalised the pledge, and approved it.

The decision comes after campaigns to combat the phenomenon of random gunfire during wedding ceremonies, particularly in Sebha. The practice there has become widespread, due to the prevalence of loose weapons. Civil activist, Hassan Abdel-Jalil, who hails from southern Libya, welcomed the court's decision, saying that the citizens of the city had received it positively.

Libya has seen a notable increase in the use of medium and light firearms, and sometimes heavy weapons. They are often used not only in battles and conflicts but also in social events, where the sound of gunfire can be heard throughout the night. Such shootings have often resulted in deaths, serious injuries, tension, and panic.

Abdel-Jalil told Al-Sharq Al-Awsat newspaper that many Libyan cities, including Sebha, have witnessed casualties due to the random firing of guns at social events and weddings. He added that "everyone hopes that this ruling will help reduce the phenomenon of random gunfire."

Libyans who oppose the practice say that some celebrants resort to heavy weapons, such as 14.5mm anti-aircraft guns, which often result in casualties. The Attorney General's Office is responsible for investigating such incidents.