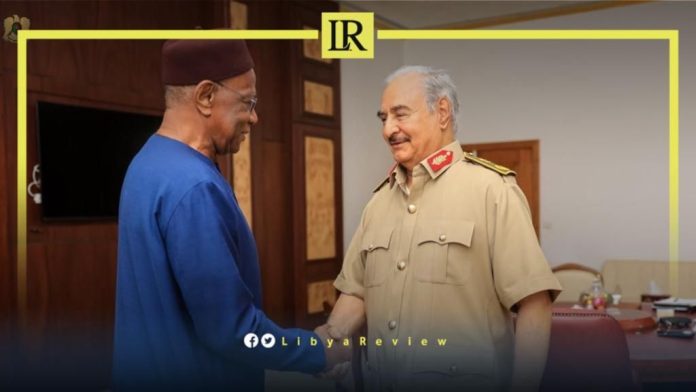 On Sunday, the General Commander of the Libyan National Army (LNA), Field Marshal Khalifa Haftar, held a meeting with the United Nations (UN) Special Envoy to Libya, Abdoulaye Bathily, in Benghazi.

During the meeting, the duo underscored the pressing requirement to conclude the formulation of election laws and reach a political consensus. The primary objective is to pave the way for a comprehensive and peaceful transition in the country.

The meeting served as a platform to review recent developments, with both parties reaffirming the necessity of conducting presidential and parliamentary elections in Libya. The focus was on creating a conducive environment that ensures the success and credibility of the electoral process.

Given the complexity of Libya's political situation, the call for finalising election laws assumes paramount significance. It represents a pivotal step towards establishing a legitimate and representative government in a nation grappling with the aftermath of conflict. The collaboration between General Haftar and UN Envoy Bathily sends a strong signal of their shared commitment to steer Libya towards stability and democratic governance.

The international community has been closely following the Libyan electoral process, with the UN playing a central role in facilitating dialogue among rival factions and advocating for transparent and credible elections. These proposed elections aim to provide Libyan citizens with an opportunity to exercise their political choices and express their aspirations for the future of their country.

The finalisation of election laws is crucial in ensuring the integrity of the electoral process. These laws will define the electoral framework, outlining procedures for candidacy, voter registration, and the conduct of elections. Resolving these outstanding issues is essential for Libya to move closer to conducting an inclusive and transparent electoral process that genuinely reflects the will of its people.

The meeting in Benghazi marks a significant stride forward in Libya's political landscape. Both General Haftar and Bathily acknowledge the importance of addressing political challenges to create an environment conducive to free and fair elections. Their shared commitment to a peaceful transition highlights the potential for progress in Libya's political sphere.