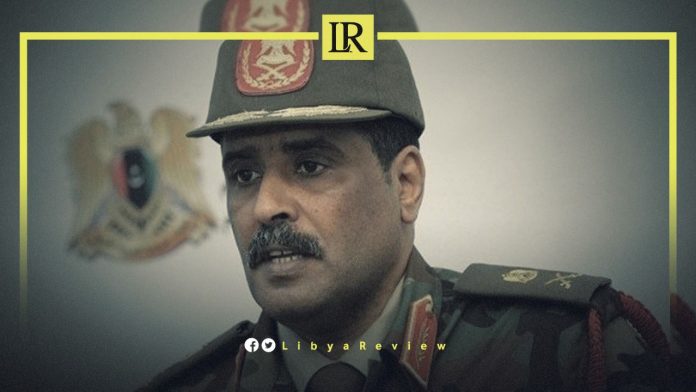 The Spokesman for the Libyan National Army (LNA), General Ahmed Al-Mismari said that the United Nations Mission (UNSMIL) has yet to propose a Libyan-led solution to the ongoing conflict.

He emphasized that the UN "appears to accept conditional solutions mediated by major foreign powers, which do not align with the principles of genuine dialogue and a Libyan-led resolution."

Regarding the efforts of the 5+5 Joint Military Commission (JMC) to unify the military institution, Al-Mismari noted that the committee's mandate "does not specifically involve unifying the military." He suggested that "this aspect is an additional topic being considered."

Moreover, he stressed that the closure of borders with Niger and Sudan "is not currently a viable option unless the situation escalates. Any potential armed conflict in Niamey, following threats from the Economic Community of West African States (ECOWAS), would not serve the interests of any party involved. There are various options, but for now, we are monitoring the situation."

Furthermore, he emphasized that the situation in Niger is an internal matter. However, he expressed concern about the potential for an armed conflict, particularly if it becomes international, rather than local.

The Spokesman voiced apprehension about the situation spiralling out of control in Niger, stating that "war in Niger does not serve the region at all. The region is already tense, and its people are suffering from various issues. Therefore, we do not believe that war is the first option, but rather political solutions and negotiations."

Earlier, Al-Mismari shed light on the military and civil accomplishments in the city of Sebha. Despite facing significant changes in security conditions, these advancements have enabled the city to experience stability, and pave the way for development under the guidance of the LNA's General Commander, Khalifa Haftar.

According to Al-Mismari, the LNA "defeated numerous extremists in the Fezzan region, in more than 15 skirmishes and battles. The most critical operation since 2019 occurred in Sebha, where they eliminated a highly dangerous terrorist known as Abu Talha Al-Libi."

He confirmed that armed units are now deployed across the entire southwestern region, spanning four military zones. Al-Mismari also pointed out that the LNA was closely monitoring neighbouring countries experiencing tensions, to prevent them from exploiting their territories to launch attacks against Libya.