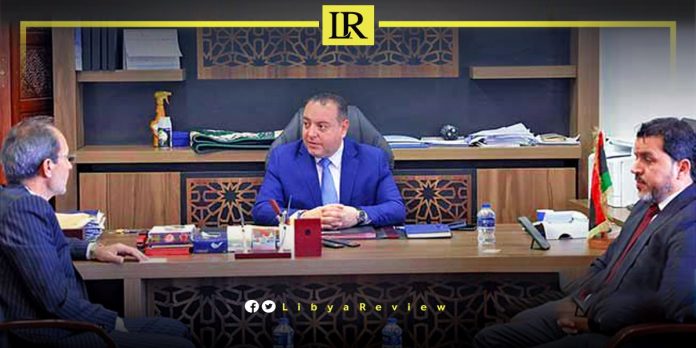 A senior Libyan government official recently met with the Chargé d'Affaires of the Iranian Embassy in Libya, Ainollah Souri. This was to explore opportunities for bilateral cooperation in the energy sector.

Osama Alderhat, Advisor to the Prime Minister for Electricity and Renewable Energies, engaged in discussions with the Iranian diplomat on various topics related to energy production, conversion, and transmission.

According to a statement, the two parties delved into global trends in solar cell and wind turbine energy production. They aligned their discussions with the international shift towards clean, and sustainable energy sources.

Recognizing the significance of clean energy technologies, both Libya and Iran expressed their mutual interest in holding technical meetings with specialized Iranian companies in electricity production and transmission. Especially in the realm of clean energies, such as solar and wind power.

Last month, the Libyan Foreign Minister, Najla Al-Mangoush arrived in the Iranian capital Tehran in a historic visit, marking the first high-level contact between the two nations in years.

Al-Mangoush was received by her Iranian counterpart, Hossein Amir-Abdollahian, for talks aimed at improving bilateral ties, according to Iran's Fars News Agency.

The visit is seen as a significant step in the aftermath of the internal developments in Libya in recent years.

The two top diplomats had previously discussed the development of bilateral relations and regional and international developments in a phone call a few months ago.

Iran and Libya pledged to improve their bilateral relations in the past few months, with Libya elevating its diplomatic representation in Tehran from Chargé d'Affaires to Ambassador. This follows the presentation of credentials by the Libyan ambassador to Iran, according to Iran's ISNA news agency.

Months ago, Tehran announced its intention to reopen its embassy in Libya, with a diplomatic delegation sent to Tripoli to reopen the Iranian embassy. Currently, the Iranian diplomatic mission in Libya is headed by "Ainollah Souri," who has worked in the Iranian Republic's missions in several countries.

Iranian shipping resumed operations in Libya, with the first Iranian ship docking in the port of Misrata after a suspension of nearly a decade.

The head of the Iranian diplomatic mission in Libya, Ainollah Souri, hopes to raise the level of bilateral relations between Iran and Libya to the level they enjoyed in the past, particularly in the economic and trade sectors.

According to Souri, Libya has "warmly received the Iranian embassy in Tripoli, and a series of meetings have been held between the two sides."

Previously, Iran and Libya had discussed arrangements for the return of the Iranian embassy and the activation of a joint economic committee to enhance bilateral relations.

In 2011, all foreign embassies in Libya, including the Iranian embassy, were closed due to protests against the regime of Muammar Gaddafi.