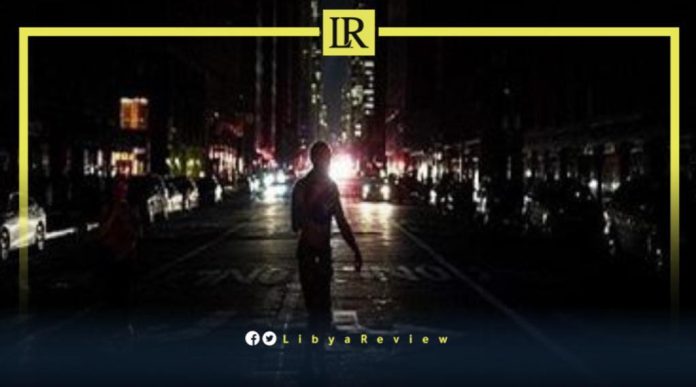 On Wednesday, the General Electricity Company of Libya (GECOL) announced a nationwide power outage for a full day.

GECOL stated that the outage resulted from technical experiments involving the charging of a new circuit in the southern region of Tripoli. This has a reported capacity of 400 kW, in cooperation with the German company, Siemens.

Specifically, these experiments took place in the Janzur district, in western Tripoli. The company clarified that the electricity supply will resume once the experiments are completed. The company did not announce the power cut in advance.

Due to previous production deficits and excessive consumption, GECOL used load shedding as a means to maintain network stability. This resulted in power cuts for eight to twelve hours per day during the summer and winter peaks.

Notably, the Director of the US Agency for International Development (USAID) in Libya, John Cardenas, announced that "aid is being provided to Libya to increase electricity generation, integrate renewable energy, and reduce consumption, ensuring a steady flow of energy into the country for years to come."

The US Embassy in Libya, and USAID have reaffirmed their commitment to "working alongside the Libyan people and international partners to promote stability in Libya and the region."

Cardenas stated that the agency is "working with national institutions, civil society organisations, and the private sector, to promote stability and support the Libyan people." As well as highlighting their cooperation with municipal councils, to improve services provided to citizens.

Cardenas also mentioned the agency's projects, such as road repairs, installation of solar-powered streetlights, construction of sports fields, restoration of markets, and establishment of emergency health operation centers.

The Director also addressed projects in the south, explaining that the agency, in collaboration with its partners, "helped provide tables and equipment to schools in Murzuq to improve the education of students there. The agency also provided one million dollars in aid to renovate the Sebha airport, ensuring connectivity between the south and other regions."

Last month, the Governor of the Central Bank of Libya (CBL), Al-Siddiq Al-Kabir met with the Chargé d'Affaires at the US Embassy to Libya, Leslie Ordeman.

According to a statement by the CBL, the two reviewed the Supreme Council for Energy Affairs' plan to increase oil and electricity production.