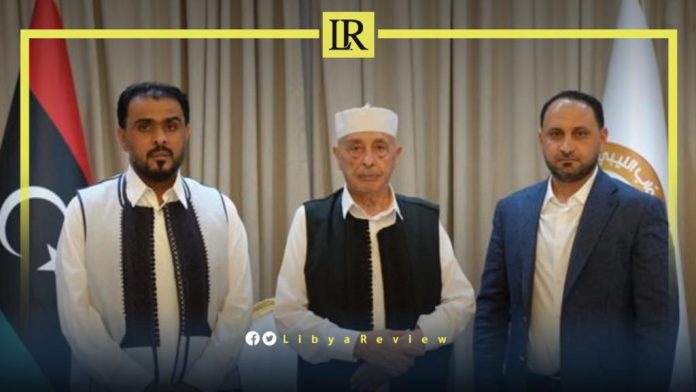 Libyan Prime Minister-designate, Osama Hammad, along with the Chairman of the Reconstruction and Stability Committee, Hatem Al-Arabi, held discussions on Saturday, with the Speaker of the House of Representatives (HoR), Ageela Saleh. They spoke about the Public Debt Law related to banks and the Budget Law for the year 2023.

The meeting, which took place in Al-Qubah city addressed the mechanism for repealing Law No. 1 of 2013, which pertains to the abolition of usurious interests and narrowing its scope exclusively to Islamic banks. The law had a direct impact on the functioning of banks and significantly disrupted the financing process.

During the meeting, Hammad briefed the speaker of the HoR on the government's progress and informed him about government-supported reconstruction projects in various cities and regions.

Hammad stressed the importance of presenting proposals that would enhance the government's performance and strengthen its authority, given that it is the legitimate government of Libya in accordance with its mandate from the HoR. He also highlighted ongoing local and international communication aimed at solidifying the government's legitimacy.

In response, Saleh commended the efforts of the Libyan Prime Minister and Al-Arabi, urging them to coordinate collaboratively between the government and the committee in development projects that serve the nation and its citizens.

Saleh stressed the necessity of providing services to citizens and supporting the completion of several important and vital projects.

This meeting signifies the commitment of Libyan leaders to enhancing governance, development, and cooperation, all of which are vital for the stability and growth of the nation. The discussions revolve around legal and financial matters that directly impact the nation's economy and progress. Collaborative efforts between the government and relevant committees highlight their dedication to addressing challenges and achieving positive outcomes. This commitment to coordination and effective governance reflects their determination to foster the well-being of Libyan citizens and the nation as a whole.