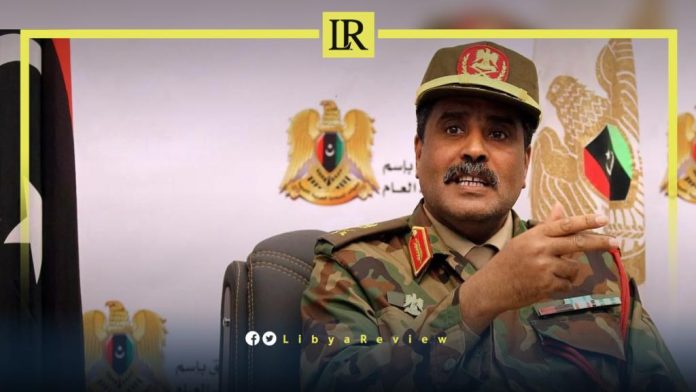 The Spokesman for the Libyan National Army (LNA), General Ahmed Al-Mismari has expressed the LNA's "concerns over the developments in neighbouring countries, and their potential grave implications for Libya."

In an interview with Egypt's newspaper Youm7, Al-Mismari stated that Libya's neighbouring countries are "currently facing genuine crises. This has prompted the LNA to closely monitor the situation in the region, due to its potential impact on Libya's internal affairs," he added.

Al-Mismari said that the LNA's General Command "calls for the restoration of security and stability in neighbouring countries plagued by armed conflicts and wars."

Furthermore, he expressed hope for the resolution of the crises affecting Libya's southern neighbours.

Regarding the situation in southern Libya, Al-Mismari affirmed that "the region is vast, characterized by vast distances between cities in a harsh and challenging desert environment. Southern cities have experienced border breaches by criminal gangs involved in illegal migration."

The Spokesman explained that they have been working for the past four years to impose security and stability and eliminate security threats.

He added that the LNA "is stationed in the southwestern region also to establish security and stability and prevent criminal gangs from regrouping in these areas. We are securing cities and foreign oil companies operating in the region."

Additionally, he mentioned that the Libyan border guards are on high alert along the extensive shared borders, which stretch for thousands of kilometers.

"The major challenge lies in the vast areas and difficult terrains, compounded by the lack of modern resources compared to the sophisticated vehicles possessed by smugglers attempting to breach the borders," he said.

Regarding the political developments in Libya, Al-Mismari affirmed that the LNA is awaiting the necessary constitutional basis for conducting elections.

He also called on foreign ambassadors, and the United Nations Mission (UNSMIL) to refrain from interfering in the country's internal affairs.

Al-Mismari stressed his hope that the international community "recognizes the importance of stability, prosperity, and progress in Libya. This can only be achieved with a strong national army, capable of upholding the rule of law and the prestige of the state. We hope that the Libyan people reach the elections, which is a popular demand, and the LNA is always supportive of and aligned with the aspirations of the Libyan people."

Earlier, Al-Mismari said that UNSMIL has yet to propose a Libyan-led solution to the ongoing conflict.

He emphasized that the UN "appears to accept conditional solutions mediated by major foreign powers, which do not align with the principles of genuine dialogue and a Libyan-led resolution."

Notably, the newly-formed military council that has taken control of Niger, announced the reopening of its land and air borders with Libya, and other neighbouring countries.

The military leaders closed Niger's borders on 26 July, following the seizure of power and the ousting of elected President, Mohamed Bazoum.