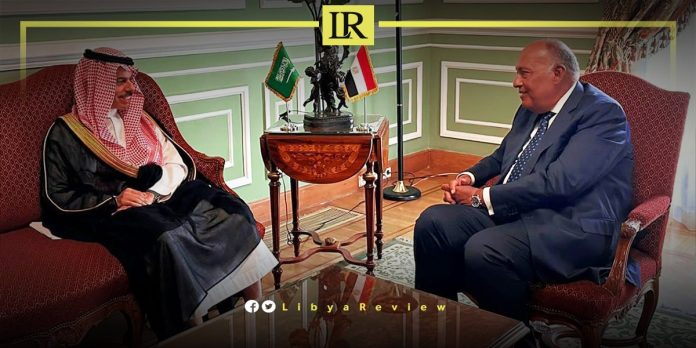 As tensions mount and the political landscape in Libya remains volatile, Egyptian Foreign Minister Sameh Shoukry and his Saudi counterpart, Prince Faisal bin Farhan, took center stage in Cairo to address this pressing matter.

In a statement, Egypt's Foreign Ministry Spokesman, Ahmed Abu Zeid highlighted that the Libyan situation was a central topic of their dialogue. The meeting wasn't exclusive to Libya, however, as both sides also explored developments in regional neighbours like Sudan, Yemen, and Syria. Yet, the gravity of Libya's current affairs necessitated a special focus, given the nation's strategic importance to both Egypt and Saudi Arabia.

The ministers emphasised the paramount importance of Arab-led solutions, asserting that the destiny of countries like Libya should be sculpted by their own people, echoing aspirations for stability and progress. Such a viewpoint priorities regional autonomy, and underlines the need for external parties to support, rather than dictate outcomes.

Wrapping up their talks, Shoukry and Faisal agreed on the necessity of continuous engagement, particularly regarding Libya, and pledged to bolster cooperation and solidarity between Egypt and Saudi Arabia.

For years, Libya has been a focal point of concern in the geopolitical dynamics of the MENA region. The country's vast oil reserves and strategic Mediterranean coastline have often drawn international attention. However, since the fall of Muammar Gaddafi in 2011, Libya's internal strife has spiralled, leading to a political vacuum, factional warfare, and a hotspot for extremism.

Neigh-boring Egypt and regional power Saudi Arabia have particular stakes in the stability of Libya. Egypt shares an extensive border with Libya, making security concerns immediate, especially with the potential spillover of militancy. Saudi Arabia, being a key player in the Arab world, is deeply vested in ensuring that Arab nations remain stable, sovereign, and free from external interference.