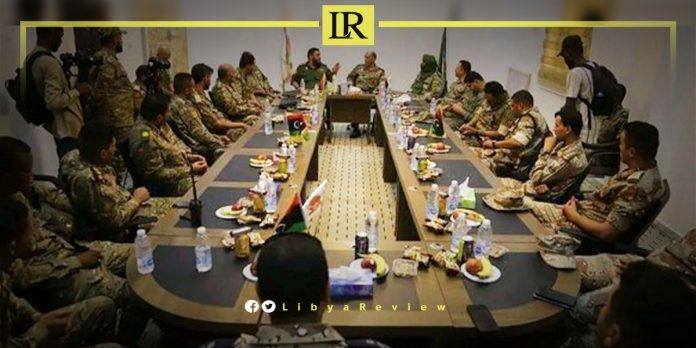 In an urgent response to the evolving security landscape of southern Libya, Libyan National Army (LNA) units held a pivotal meeting in the city of Ubari on Thursday.

The official Spokesman for the LNA's General Command, Ahmed Al-Mismari headed the meeting, which was organized at the Ubari-Ghat operations center. This is affiliated with the bolstered 128th Brigade based in Ubari. A large number of officers from this brigade and others from the Tariq bin Ziyad Brigade were present in the talks.

Central to their discussions were the current security conditions, and the operational efficiency of military units deployed across southern Libyan towns and territories.

A salient aim of this meeting was also to strengthen coordination and mutual collaboration between units, especially those safeguarding regional territories and border posts.

Highlighting the broader strategic context, Al-Mismari pointed out that this collaborative approach stems directly from the directives of the LNA Commander, Field Marshal Khalifa Haftar. He underscored the pivotal role of enhanced inter-unit cooperation in the LNA's overarching strategy.

Libya, a North African nation with a rich tapestry of history and culture, has faced tumultuous times since the 2011 overthrow of Muammar Gaddafi. The nation's vast southern region, a blend of sprawling deserts, mountain ranges, and historic trade routes, has increasingly become a focal point for security concerns.

The southern part of Libya, known as Fezzan, holds immense geographic and strategic importance. It borders Chad, Niger, Sudan, and Algeria, making it a significant point of transit for trade and, unfortunately, illicit activities, including human trafficking and smuggling.

After Gaddafi's fall, the South witnessed a massive security vacuum. Rival tribal militias, foreign mercenaries, and extremist groups took advantage of this void, setting up operations and causing instability.

Fezzan's indigenous Tuareg, Toubou, and Arab tribes have longstanding rivalries. The power vacuum post-2011 exacerbated these tensions, with each group vying for control of lucrative smuggling routes and local governance.