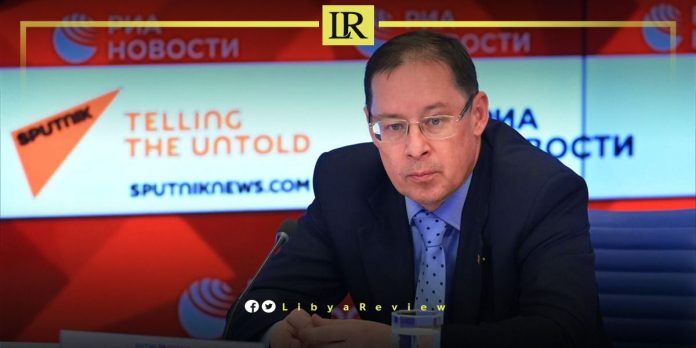 The Russian Ambassador to Libya, Aydar Aganin emphasized the need for all factions to move towards elections, describing it as the "only solution for restoring stability to Libya."

In a press statement, Aganin highlighted that it's imperative for the Libyan people to "elect their representatives who will possess full legitimacy."

Further, he remarked that Libyan forces are "currently exploring solutions through agreements and committees appointed by the Parliament and the High Council of State (HCS). We must support these efforts to bring back stability and unity to the country," he stated.

Aganin concluded by stressing the "importance of including all figures without exception, as excluding them might have adverse consequences."

Last month, Egypt's Ambassador to Moscow, Nazih Al-Najari met with the Russian Deputy Foreign Minister and Special Presidential Envoy for the Middle East and Africa, Mikhail Bogdanov.

They discussed the evolving political scenario in Libya, and several other key Arab issues. This meeting indicates the ongoing engagement between the two nations, regarding critical global concerns.

According to a statement released by the Egyptian Foreign Ministry, the two officials "reviewed the ongoing preparations for the upcoming Russia-Africa Summit." The international gathering is set to take place in St. Petersburg on 27-28 July.

Another focal point of the discussion was the unfolding situation in Sudan. Bogdanov expressed his welcome of Egyptian efforts in this regard. He highlighted the outcomes of the summit by Sudan's neighbours held in Cairo on 13 July. He articulated hope for the restoration of peace and stability in Sudan.

The meeting also touched on other regional issues, including developments in Palestine and Libya. It demonstrates the active role of Egypt in fostering diplomatic dialogues, working towards the stability of neighbouring countries like Libya and Sudan, and addressing other significant regional matters.

It offers insight into Egypt's diplomatic strategies and its crucial role in facilitating peace and stability in the region. Egypt remains committed to maintaining its active engagement in regional issues, further enhancing its diplomatic stature on the global stage.