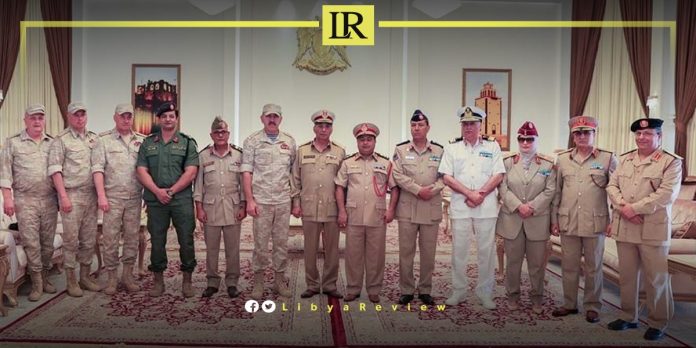 On Wednesday, the Spokesman for the Libyan National Army (LNA), Major General Ahmed Al-Mismari stated that the visit by the high-level Russian defence delegation to Benghazi aimed to "enhance military and security collaboration, as well as address terrorism and transnational crime."

He added that the Russian Deputy Defence Minister, Yunus-bek Yevkurov spearheaded the delegation which arrived in Benghazi on Tuesday. Senior officials from the LNA were present to greet them.

Detailing the visit's agenda, Al-Mismari revealed that Yevkurov immediately embarked on a technical session with various LNA Chiefs of Staff, and representatives from specialised departments.

He added that the meeting was structured to "discuss cooperation avenues and coordination according to the training needs, rehabilitation, and maintenance of Russian weapons, and equipment." It's noteworthy that these arms and equipment form the backbone of the LNA's arsenal.

The Russian Defence Ministry announced on Tuesday that their trip was in response to an invitation extended by the General Commander of the LNA, Field Marshal Khalifa Haftar.

This trip is notably a culmination of the Russian-Libyan talks held during the 11th Moscow International Security Conference and the "Army-2023" defence forum in St. Petersburg, as detailed in the statement.

In November, the Special Envoy of Russia's President to the Middle East and Africa, Mikhail Bogdanov said that Moscow will soon reopen its Embassy in Libya.

Russia relocated its Embassy to neighbouring Tunisia in 2014, after it came under attack in October 2013. This forced Moscow to withdraw its diplomatic staff from Libya.

In August, the Russian Foreign Minister, Sergey Lavrov, and his Libyan counterpart, Najla Al-Mangoush discussed the prospects for resuming economic projects, which were suspended a decade ago.

During the talks, the two paid special attention to the resumption of the work of the Intergovernmental Committee. As well as the activities of Russia's Tatneft and Gazprom energy companies, and the Russian Railways projects in Libya.

Notably, Libya has been in chaos since a NATO-backed uprising toppled longtime leader Muammar Gaddafi in 2011. The county has for years been split between rival administrations, each backed by rogue militias and foreign governments.

The current stalemate grew out of the failure to hold elections in December, and the refusal of Prime Minister Abdel-Hamid Dbaiba, who is leading the transitional government, to step down.