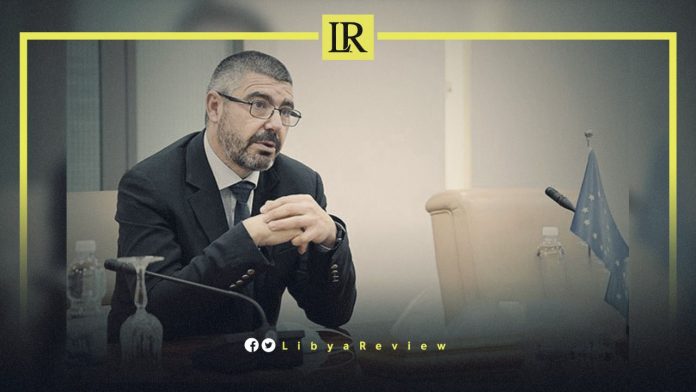 Jose Sabadell, the European Union's Ambassador to Libya, has highlighted the need to conclude the transitional phase, and deter a relapse into past crises that have beleaguered the nation.

In a recent tweet, Sabadell shared, "I had the privilege to be received by Prime Minister Abdel Hamid Dbaiba to say goodbye as EU Ambassador to Libya. I was very fortunate to attend the ceremony of his swearing-in at the House of Representatives in Tobruk in March 2021."

He went on to add, "The difficult regional situation makes it even more urgent to reinforce stability by consolidating positive trends, avoiding returns to the past, and ending the transitional period through elections. We agreed on the need to increase our cooperation, in particular on migration and renewable energies, EU will remain ready to support Libya's progress."

On Thursday, Italy's UN Ambassador, Maurizio Massari held a pivotal meeting with the UN Envoy to Libya, Abdoulaye Bathily. This comes on the heels of a recent briefing to the Security Council, detailing the escalating unrest in Libya.

During the talks, Massari reiterated that ensuring Libya's stability and growth remains at the forefront of Italy's international objectives. He also strongly endorsed the UN's peace efforts, underscoring the importance of a sustainable, all-encompassing pact between Libyan entities.

During his briefing to the Security Council, Bathily shed light on the mounting tensions in Tripoli, particularly the recent confrontations between its major armed factions. These events, he argued, "not only emphasize the precarious security state, but also jeopardize the upcoming electoral preparations scheduled later in the year."

He also elaborated on the challenges, stressing the evident leadership vacuum and fragmented security forces in western Libya. He emphasized the pressing necessity for a consolidated government and military in the nation.

Libya has been in a state of turmoil and civil conflict since the fall of its longtime ruler Muammar Gaddafi in 2011. This turmoil has had a profound impact on the geopolitical landscape of the region, leading to issues of migration, energy security, and concerns over the rise of extremist groups.