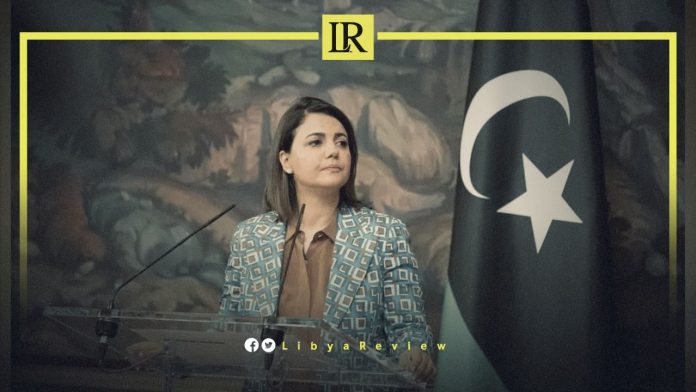 On Monday, the Libyan Internal Security Agency (ISA) announced that Foreign Minister, Najla Al-Mangoush has been placed on the travel ban list. This comes after her secret meeting with her Israeli counterpart, Eli Cohen.
The Prime Minister of the Government of National Unity (GNU), Abdel-Hamid Dbaiba had previously suspended Al-Mangoush, and referred her for investigation following her secret meeting with Cohen.
Local media reports had suggested that Al-Mangoush had "escaped" to Turkey. However, the Libyan ISA denied that the minister had passed through official channels at Mitiga Airport, Tripoli.
It indicated that "surveillance cameras (of the airport) will clarify the situation."
"The Internal Security Agency affirms its unity with the aspirations of the Libyan people and its respect for their sentiments, which we share, especially regarding the Palestinian issue," the agency stated.
Notably, the Foreign Affairs and International Cooperation Committee of the Libyan Parliament condemned the secret meeting.
The committee said in a statement that the meeting was a "grave violation and a criminal act under Libyan law."
The Parliament called for imposing severe penalties on the Foreign Minister of the "discredited" government.
Libyan laws prohibit normalization, or any form of dealing with Israeli entities or individuals.
The Committee urged for suspending Al-Mangoush. "We call for preventing her from engaging in any actions that could implicate the Libyan state in obligations contrary to the values, national identity, and moral principles of the Libyan people, thereby violating the existing laws and legislation in Libya," the statement said.
The committee reaffirmed its unwavering commitment to the boycott of the "Zionist entity," as mandated by Libyan law.
"We express our deep disappointment in the GNU for undertaking such disgraceful actions, which aim to secure narrow political gains and maintain power through concessions that undermine national principles and defy Libyan laws," it added.
It called on the Attorney General to investigate the incident.
For its part, the Parliament's Presidential Council has summoned members for an emergency session on Monday. This is to discuss the repercussions of the recent meeting.