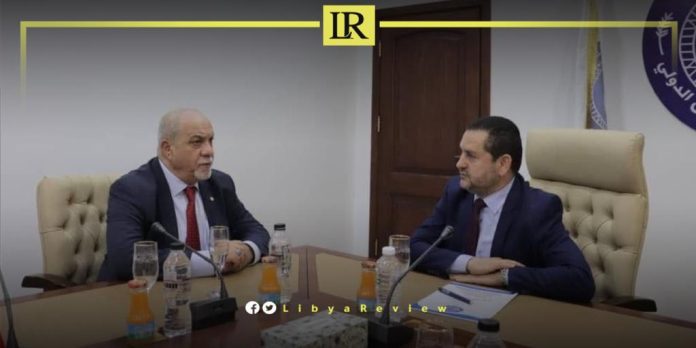 On Monday, the Libyan Foreign Minister of the Parliament-designated government, Abdel-Hadi Al-Hwaij met with the Palestinian Consul, Emad Al-Atily in Benghazi.
Al-Hwaij clarified Libya's "steadfast support for the Palestinian cause." This comes in the wake of the controversial meeting between the Minister of Foreign Affairs of Libya's Government of National Unity (GNU), Najla Al-Mangoush with her Israeli counterpart, Eli Cohen in a move that has sparked considerable unrest in the country.
Al-Hwaij asserted that the recent controversial diplomatic contacts "do not represent the elected Libyan government, or the Libyan people."
"This action is not reflective of the Libyan government elected by the Libyan Parliament, the country's sole legitimate governing body, nor does it align with the principles of the Libyan people concerning the Palestinian cause and our Palestinian brothers," he stated.
He further emphasised his unwavering support for Palestinian unity, noting that "preserving the integrity of the Palestinian cause is a cornerstone of Libyan foreign policy."
In turn, Al-Atily conveyed his gratitude for Libya's principled stance. He also relayed a message from Palestinian Foreign Minister, Riyad Al-Maliki, stating, "The Libyan people's message of rejecting any interaction with Israel has been unequivocal from the outset."
In a symbolic act of unity, the Palestinian flag was hoisted at the Libyan Foreign Ministry's office.
Earlier today, the GNU Premier, Abdel-Hamid Dbaiba decided to dismiss Al-Mangoush after her secret meeting in Rome.
In addition, Al-Mangoush could face a prison sentence according to Libyan law, following her controversial meeting with the Israeli Foreign Minister.
The Libyan Parliament has summoned its members for an urgent session in Benghazi to discuss what it labelled as a "crime against the Libyan people and its national principles."
Local Libyan media reported that Al-Mangoush had already left the country, landing at Istanbul International Airport. Calls for severe sanctions echoed in the Parliament, and a demonstration was staged outside the Libyan Foreign Ministry in Tripoli to protest the contentious meeting.