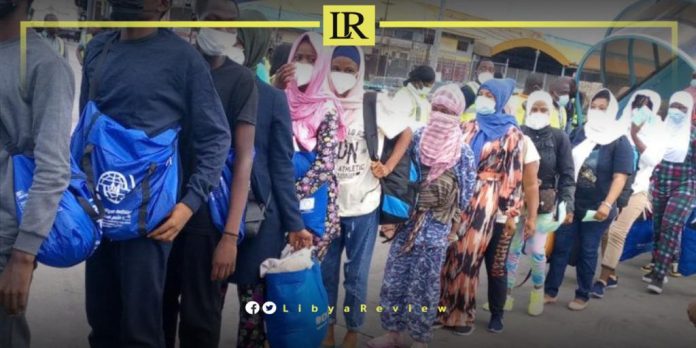 On Monday, Nigeria's National Emergency Management Agency (NEMA) said that more than 298 Nigerians have been repatriated directly from Libyan prisons to Nigeria, through two chartered flights within a week.
On 21 August, the first chartered flight deported 161 returnees, while the second flight arrived on Monday with 137 returnees.
The migrants had been held in various detention camps in Libya, and shared their bitter experiences upon their return.
Among the returnees were 119 women, many of whom were pregnant, along with three female children, and two female infants. Additionally, there were 170 men, three male children, and one male infant, making a total of 298 individuals repatriated.
The returnees arrived in Nigeria aboard Al Buraq Air Boeing 737-800 flight, registration number 5A-DMG at the Cargo Wing of the Murtala Muhammad International Airport in Ikeja at approximately 17:38 hours on Monday.
The United Nations International Organisation for Migration (IOM) and NEMA were present to receive the returnees.
Notably, the IOM states that 2,013 people have already died or disappeared this year, while attempting to cross the central Mediterranean. This figure surpasses the total of 1,417 for the entirety of 2022.
This comes amid a backdrop of scrutiny over Ocean Viking's operations. In July, Italian authorities detained the ship for 10 days, questioning its safety standards, before allowing it to continue its life-saving missions.
The migratory route across the central Mediterranean from the Libyan and Tunisian coasts is considered one of the deadliest in the world.
According to a Spokesperson from the IOM, "more than 1,800 people have lost their lives attempting to cross this route since the beginning of this year, an increase of around 900 compared to the previous year."
The Spokesperson added, "It is likely that the actual number is much higher. Many bodies have been found at sea, indicating numerous cases of drownings that we have never heard of."