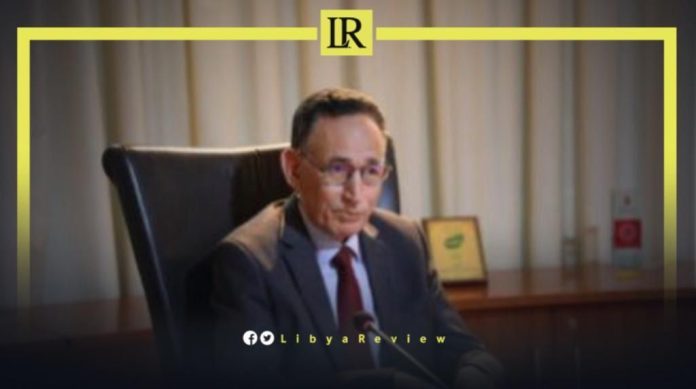 On Thursday, Libya's Minister of Economy, Mohamed Al-Hwaij met with his Palestinian counterpart, Khaled Al-Assaily. This took place at the headquarters of the Arab League in Egypt, on the sidelines of the Economic and Social Council meeting of Arab Ministers.
The meeting was a continuation of discussions that began in March, when a Palestinian delegation, accompanied by businessmen, visited Libya. Both parties are focused on establishing a shared vision to strengthen economic relations and bilateral trade.
The ministers agreed to host a "Made in Palestine" exhibition in Tripoli. The event will also be coordinated with the General Authority for Exhibitions.
Al-Hwaij emphasized that both the Libyan government, and its people fully support the Palestinian state.
The meeting was attended by the Minister's advisor, the Director of Foreign Trade and International Cooperation in the Ministry, the Commercial Attaché at the Libyan Embassy, and the President of the Libyan-Egyptian Joint Economic Chamber.
Notably, Ismail Haniyeh, the Head of Hamas' political bureau, held a telephone conversation on Thursday with Mohamed Al-Mnifi, the Head of Libya's Presidential Council, to discuss the latest developments in the Palestinian issue.
During the call, Haniyeh expressed the Palestinian people's "deep appreciation for Libya's unwavering refusal to normalize relations with Israel." He pointed out that "recent Israeli attempts to erode this honourable Libyan position have failed. "
"The Palestinian people, across all their communities, have received Libya's stance with great pride and esteem, particularly given the negative winds of change that have swept through some Arab capitals with respect to normalisation with Israel," said Haniyeh.
The Hamas leader emphasised that Libya's position "offers robust support to the Palestinian people in facing the oppressive policies of the Israeli occupation. It acts as a bulwark against schemes aimed at undermining the foundational pillars of the Palestinian cause."