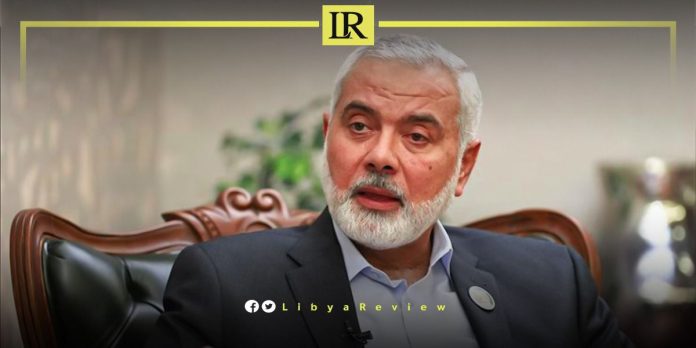 Ismail Haniyeh, the Chief of Hamas' Political Bureau, expressed his profound gratitude on behalf of the Palestinian people for Libya's unwavering stance against the normalisation with Israel.
These remarks came during a telephone conversation with Mohammed Takala, the Chairman of Libya's High Council of State (HCS).
According to a statement released by Libya's HCS, the conversation between Haniyeh and Takala revolved around the latest developments in the Palestinian issue.
Takala reaffirmed Libya's unyielding stance, declaring that for Libya, the Palestinian issue remains a central concern. He stated unequivocally that Libya would make no concessions when it comes to the rights of the Palestinian people.
In turn, Haniyeh highlighted the failure of Israel's most recent attempt to break Libya's long-standing policy of non-normalisation. "Israel's latest bid to infiltrate Libya's honorable stance has been unsuccessful," said Haniyeh, lauding the North African nation for maintaining its principles.
This reaffirmed commitment to the Palestinian cause by Libya suggests a growing solidarity among specific Arab states against normalising ties with Israel. The stance taken by countries like Libya and endorsements from groups such as Hamas could play a pivotal role in shaping the future geopolitical landscape of the Middle East.
Notably, an Israeli official stated last month that Libyan Foreign Minister, Najla El Mangoush and her Israeli counterpart, Eli Cohen engaged in a conversation for over two hours during a meeting in Italy. He told Reuters that the meeting was prearranged at the "highest levels" in Libya, contradicting Libyan statements of an unplanned encounter that sparked protests across the country.
Libya does not recognise Israel and supports the establishment of a Palestinian state.
The Foreign Ministry in Tripoli stated that El Mangoush refused to hold any meetings with Israeli representatives, and what occurred in Rome was an "incidental, unofficial meeting during a meeting with Italian Foreign Minister, Antonio Tajani."
However, the Israeli official cast doubt on this account, saying, "the meeting was prearranged at the highest levels in Libya, and lasted for about two hours. The Libyan Prime Minister views Israel as a potential bridge to the West and the US administration."