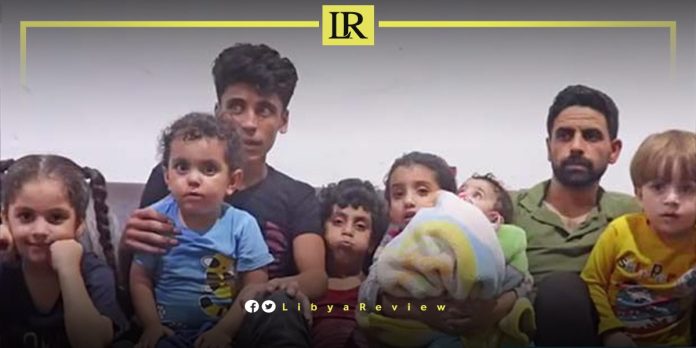 The Libyan Interior Ministry reported freeing ten Syrians who were seized in the Rigdaline region, west of Tripoli.
The situation surfaced when an alert about a Syrian girl's kidnapping was communicated to the Information and Investigation Office, and the Criminal Investigation Department of the Al-Sahl Al-Gharbi Security Directorate.
Officers embarked on an extensive search operation, collecting details surrounding the incident. During the investigation three people linked to the event were detained, all bearing past criminal histories.
The culprits were cornered in a desolate residence in Rigdaline, leading to the release of the ten Syrians.
Further details unveiled that these Syrians were kidnapped near the Dolphin Hotel in Zuwara. Efforts were coordinated with Zuwara's Criminal Investigation Department to ensure the safe return of the initially reported girl, who had been taken to Zuwara.
The security authorities notified the Public Prosecutors Office to finalise the legalities, and transfer the detainees to the Attorney General.
Safety in Libya's capital, Tripoli is continuously deteriorating, with threats of kidnapping and murder a daily occurrence for residents.
Over the years, kidnappings, arrests, and assassinations have increased substantially in western Libya. This is evident in the repeated statements of the Ministry of Interior, about the arrest of gangs and individuals involved in the kidnapping and extortion of expatriate workers.
In October 2022, the Head of the Zaher Al-Jabal Police Station, Abdel-Salam Abdullah Abdel-Nabi, was assassinated by unknown assailants. Just days before, a policeman was assassinated in the same city. Despite this happening in full view of everyone, those at the helm of power do not move a finger to identify the perpetrators. The security authorities do not move to arrest them, or announce their names.
Also, Salah Abdel-Salam, the former Executive Director of the Civil Society Commission of the Libyan Presidential Council, was kidnapped in central Tripoli.