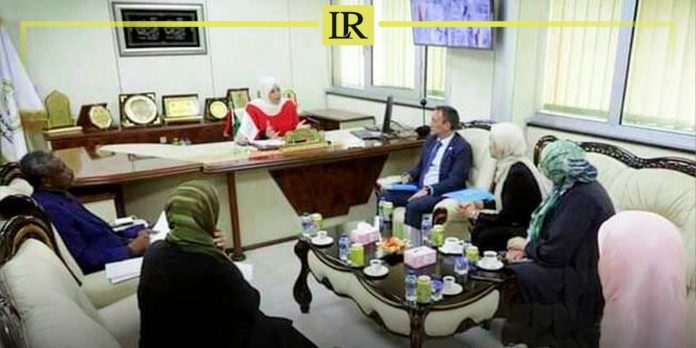 The Libyan Minister of Social Affairs, Wafa Abu Bakr Al-Kilani held a meeting with representatives from the United Nations Children's Fund (UNICEF) in Libya.
They discussed new avenues for collaboration, including training programs and technical support for the ministry.
Al-Kilani met with UNICEF's representatives in Libya, Michele Servadei and his assistant Yusra Ben Al-Amin on Wednesday. The meeting was attended by social expert, Ali Faraj from the Ministry of Social Affairs, the Director of the Family and Women's Affairs Department, Wijdan Ashtawi, and Marwa Mila from the Technical Cooperation Office.
The Ministry stated that the meeting "addressed the terms of the memorandum of understanding signed between the two parties, as well as the joint programs implemented by UNICEF in Libya. This includes the upcoming opening of Baiti centers. These are dedicated to accommodating children, which were established by UNICEF under the supervision of the ministry."
The ministry further explained that the meeting also "focused on discussing training programs and technical support for the ministry and its affiliated entities. This is with the aim of cooperating, to serve the children of Libya.
By leveraging UNICEF's expertise and resources, the ministry aims to strengthen its capacities in providing essential services, and support to vulnerable children across the country.
The Baiti centers hold immense potential in addressing the needs of children, offering a safe and nurturing environment for their growth and development.
Notably, France has provided €600,000 Euros in support of the Baity centers project. The partnership with France aims to address the urgent needs of the most vulnerable children in Libya, by providing vital educational assistance and protection, with a focus on social cohesion and skills.
Servadei stated that, "We are immensely grateful to the government of France for their generous contribution to the Baity centers in Libya. This funding will be instrumental in providing vulnerable children with essential services, including education, child protection, and psychosocial support. Together, we can transform their lives, offering them a brighter future filled with hope and opportunity."
"As part of its policy to establish stability in Libya, the French Embassy is providing support to UNICEF, and supporting its activities that have a positive impact on local communities, especially the most vulnerable," said the French Ambassador to Libya, Mostafa Mihraje.