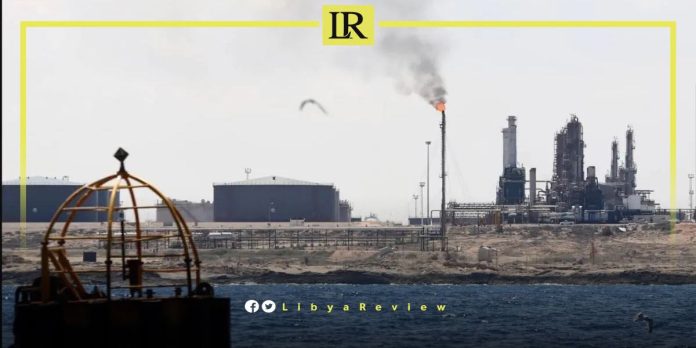 On Saturday, Libya's National Oil Corporation (NOC) announced that crude oil production has reached 1.208 million barrels in the past 24 hours, while condensate production amounted to 48,000 barrels.
Friday's production rate reflects a partial rebound, returning to levels last witnessed on 23 August. This comes after a slight dip on Sunday, where production decreased to 1.204 million barrels.
In total, Libya's crude oil production stands at an impressive 36,517,121 barrels. Oil products have reached 458,126 tons, with petrochemical products accounting for 24,008 tons, and condensates weighing in at 199,438 tons.
According to the NOC's statement on Friday, natural gas production for the same month stood at roughly 1.071 billion cubic meters.
Recently, a new oil well, owned by the "Nafusa" company, commenced its production, pumping at a rate of 2,000 barrels daily. This oil will be transferred to the Tahara field, operated by the Arab Gulf Oil Company, before being channelled to the Zawiya port.
The NOC also secured second place on the list of highest revenue-generating African oil companies in 2023, boasting a staggering total production value of approximately 33.4 billion dinars.
Notably, Libya's Mellitah Oil and Gas Company has announced the completion of drilling oil well "FB 34" in the El Feel field. In an official statement, it confirmed that the well has a production capacity of around 4,000 barrels per day, without the presence of any accompanying water.
In May, the NOC declared the successful drilling of well "B 4-49" affiliated with Mellitah, boasting a production capability of up to 1,800 barrels daily. Technical teams managed to finalise the drilling of the recovery well "B4-49," utilising advanced smart equipment. Subsequent testing on the 64/32 choke indicated a production potential of 1,800 bpd, as per the corporation's statement at that time.
Last month, the NOC announced that its technical teams from Nafusah Oil Operations (NOO), have achieved a significant milestone, commencing production from the A-4 well, at a rate ranging from 1,500 to 2,000 barrels per day.
The NOC's statement clarified that the oil extracted from the A-4 well will be transferred to the Al-Tahara field, operated by the Arabian Gulf Oil Company, before being pumped to the Zawiya port.
This achievement reflects the concerted efforts of industry professionals, aimed at elevating Libya's oil production rates.
The NOC also pointed out that production has been supplied by the Al-Jowfe Company. Oil pumping from the well will continue for the next six months, during which time pressure rates and crude oil purity will be closely monitored. Necessary technical information will be gathered, and pressure and flow rate measurement equipment has been installed at the bottom of the well.