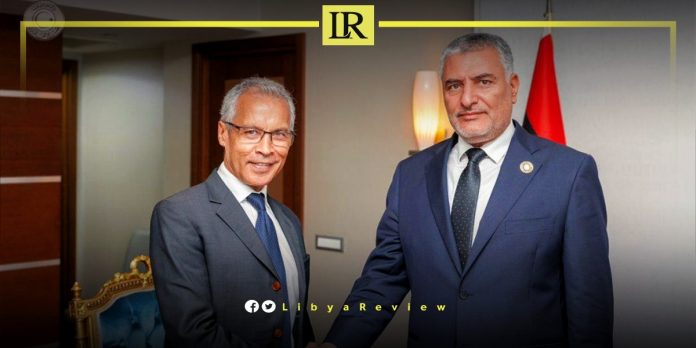 Mohamed Takala, the Chairman of Libya's High Council of State, (HCS) met with the French Ambassador to Libya, Mostafa Mihraje in Tripoli.
During their discussions, the two officials delved into the current dynamics of Libya's political process. According to the HCS, the talks also "focused on the current political landscape in Libya, with a particular emphasis on the electoral process and efforts towards national reconciliation. "
The meeting also highlighted the "work being done by the HCS in these crucial areas." Both parties delved into mutual avenues of cooperation, underscoring the shared commitment to further the welfare of the Libyan and French people.
On his part, Mihraje emphasised the essence of ensuring a successful political process, achieved through a comprehensive consensus on electoral laws. Such laws would pave the way for inclusive electoral participation, ultimately guiding Libya to a more stable and secure future.
With elections and national reconciliation being critical for Libya's stability, meetings like these are vital. France's involvement showcases its willingness to play an active role in Libyan politics, possibly serving as a mediator in the upcoming electoral processes.
During a briefing to the UN Security Council last month, Abdoulaye Bathily, the UN Envoy and Head of the United Nations Support Mission in Libya (UNSMIL), emphasised the urgent need for a consensual, unified government.
He argued that completing the legal framework for elections is indispensable for fulfilling the Libyan people's desire for legitimate governance, sustainable stability, and enduring peace.
Libya is currently divided between two main rival administrations: the Tripoli-based Government of National Unity (GNU) in the west, and the Parliament-designated government in the east.
Various foreign powers have also intervened, backing different sides in the conflict. The situation is further complicated by the presence of numerous militias, and extremist groups. This mosaic of internal and external forces has made it extremely difficult to navigate a path toward peace, and stability.