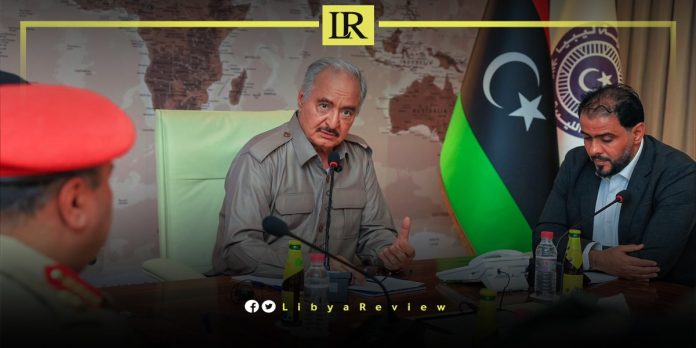 Field Marshal Khalifa Haftar, the Commander-in-Chief of the Libyan National Army (LNA) issued instructions to provide urgent medical supplies, and offer shelter to those affected by storm Daniel.
In a speech on Monday evening, Haftar expressed his condolences to the families of the victims, and highlighted that this "rare climatic catastrophe in Libya's history has resulted in thousands of deaths, thousands more injured, and ongoing search efforts for the missing."
He commended the search and rescue teams for their efforts in saving individuals trapped under the rubble.
Haftar directed the allocation of all necessary medical and military resources to support those affected, and facilitate the transportation of the wounded to hospitals. He called on the eastern-based government to form committees for damage assessment and losses, as well as to initiate immediate road repairs.
He announced that Egypt, the UAE, Tunisia, and Jordan have provided urgent assistance to mitigate the impact of the floods. As well as expressing gratitude to these countries for their swift response.
The Emirates dispatched relief aid and rescue teams, which actively participated in search and rescue operations. Egypt sent rescue teams and doctors, while King Abdullah II of Jordan instructed the immediate provision of aid.
Haftar added that Tunisian President, Kais Saied has mobilized human and material resources to contribute to the relief efforts, and enhance search and rescue operations. He also mentioned that several other countries have expressed readiness to send medical equipment, rescue teams, and support.
"On behalf of the Libyan people, we extend our thanks to our brothers in these Arab countries for their noble gestures, rapid response, and their provision of support and assistance to their brothers in Libya," Haftar concluded.
On Monday, the Libyan Parliament-designated government declared the city of Derna a disaster-stricken area. This is following Storm Daniel, which struck the eastern part of the country, and caused extensive damage to public and private property.
The Derna Security Directorate announced a curfew in the city from 7 PM on Sunday to 8 AM on Monday, as part of the response to the aftermath.
According to Al-Arabiya Al-Hadath, the number of flood victims in Derna alone rose to 150 on Monday.