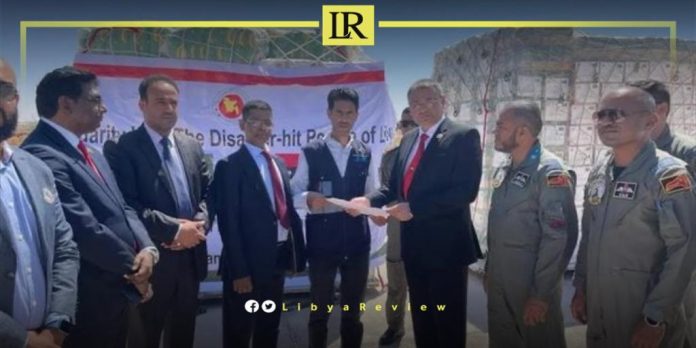 The Libyan Relief and Humanitarian Aid Commission has received a consignment of humanitarian assistance from Bangladesh. The aid shipment was graciously accepted by the Ambassador of Bangladesh, members from the Ministry of Foreign Affairs, and Isa Hussein Al-Falah, a board member of the Commission.
The assistance comprised of essential food items, and body bags. This gesture is part of international contributions to address the critical humanitarian situation, prevalent in the eastern regions of the country.
Bangladesh's move reiterates the continued support and shared responsibility of friendly nations, towards alleviating challenges faced by communities in distress. It is expected that such contributions will play a vital role in aiding the afflicted cities to recover, and rebuild.
Notably, the Emirates Red Crescent (ERC) has intensified its relief efforts to alleviate the suffering of flood-stricken Libya, according to the Emirati News Agency (WAM).
The ERS said that it "continues its drive to deliver humanitarian support in the most affected areas, especially eastern Libya, in the form of food and medical supplies and shelter materials."
The ERC delegation and its relief team in Libya are "continuing their operations to assess the on-ground situation, and identify current needs to provide aid through ongoing shipments through its air bridge and support the Libyan people."
Hammoud Abdullah Al-Junaibi, Acting Secretary-General of ERC, told WAM that, the ERC has "committed to providing all forms of support and relief to the Libyan people, in the face of this disaster that resulted in massive loss of life and major damage to infrastructure."
Al-Junaibi noted that the coming period will "witness major extension in ERC's relief programmes." He reaffirmed the organisation's humanitarian commitment to support affected people, and mitigate the fallout of the floods in Libya.
Earlier, five Emirati planes arrived at Benghazi's Benina Airport, as part of the air bridge launched by the UAE to provide relief to the Libyan people. The planes were carrying three rescue teams, urgent relief and medical aid.
Thousands of people have lost their lives and sustained injuries in the floods resulting from the heavy rains in the country.
The 64-member search and rescue team has started their missions with the necessary machinery, equipment, and devices. The total number of relief and medical supplies transported by planes from the UAE to Libya reached 200 tonnes, according to WAM.