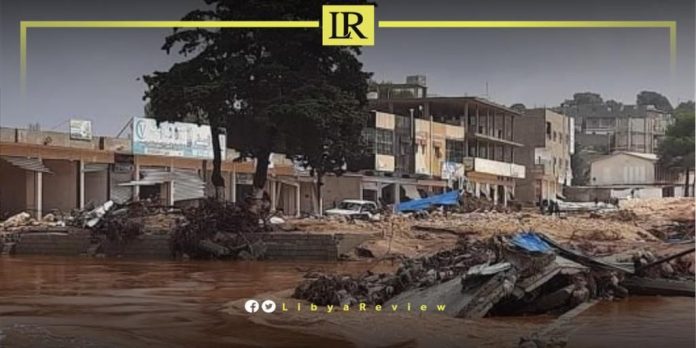 The recent flooding in Derna, a city in eastern Libya, has resulted in catastrophic damage, described by the UN Envoy to Libya, Abdoulaye Bathily, as "unprecedented in the country's history."
As the country grapples with the aftermath of the catastrophic floods triggered by Hurricane Daniel, which resulted y thousands of casualties and missing individuals, a new UN report rang the alarm on more potential disasters. One such looming threat is the collapse of dams, reminiscent of the Derna dam's tragic collapse.
The report shared by the Cairo News channel, referenced the UN Office for the Coordination of Humanitarian Affairs expressing its unease over the Wadi Al-Qattara and Wadi Gaza dams. Positioned near the eastern Libyan cities of Derna and Benghazi, these dams are currently under enormous strain from the recent deluge, amplifying fears of another calamity akin to the earlier dam failures.
Reacting to these concerns, the eastern Libyan authorities have provided reassurances about the structural integrity of both dams. They highlighted that the Wadi Al-Qattara dam boasts a holding capacity of 135 million cubic meters. Furthermore, they indicated that the dam currently holds a water volume of around 5 million cubic meters.
In a recent update, Libya's Health Minister, Othman Abdel-Jalil, revealed that fatalities in the storm-affected regions have reached an alarming 3,283 victims. He stated, "As of 5 pm today [Monday], 3,283 individuals have been confirmed dead, and have subsequently been buried."
On 10 September, a devastating storm hit several regions in eastern Libya, notably including cities like Derna, Benghazi, Al-Bayda, Al-Marj, and Sousa. The aftermath witnessed widespread destruction, resulting in thousands of deaths, injuries, and missing individuals.
The Libyan Government of National Unity (GNU) has announced the allocation of over $500 million dollars towards reconstruction efforts in the flood-hit cities of the east. Meanwhile, Libya's Attorney General, Al-Siddiq Al-Sour announced an investigation into the collapse of the Derna Valley Dam. Al-Sour stressed that successive authorities would be held accountable in Libyan courts, in relation to this disaster.
During a joint press conference with Prime Minister Osama Hammad, Al-Sour stated, "The Attorney General's office has begun summoning the dam administration, the body responsible for dam maintenance, and the Ministry of Water Resources."
This comes after the Libyan Parliament's decision to summon the government, seeking insights into its plan to address the disaster. The House also urged the Attorney General to urgently investigate the causes of the catastrophe, seeking clarity on whether any party was negligent.